(HEY IT'S TIME FOR WKLY number… what is it? I don't know. I think it's 30, but all this travel has messed me up.)
This WKLY it's all about the week we spent gallivanting around the island of KAUA'I. If you've been here (around my blogging) for a minute (for over 5 years), you know that Nate and I went to Kaua'i for our honeymoon 5 years ago. (#tbt if you're new here) Ever since that airplane flight home we have wanted to go back, so we said we'd do it for our 5 year anniversary (this August)! I am SO glad we went back to the place where our weirdly instant and unexpectedly strong travel-together-bug began.
This time, though, we planned a two week trip. The jet lag and the flight time is not worth it if you aren't there for at least two weeks. We learned that last time. Two 6 hour flights and a 6 hour time difference? That's worse than if you visit Europe. So anyways, we planned one week on our favorite Kaua'i and one week on the new-to-us Big Island (the actual Hawai'i). Today I'm sharing some Kaua'i pics! Big Island will be up tomorrow 😉 fyi: mix of 'real cam', point&shoot and iPhone. 
Last time we visited Waimea Canyon, we didn't get the whole effect. There was a very rare, very large fire happening miles away and the smoke from the fire dulled the colors of the canyon. We loved seeing it then, but the colors this time were 100% brighter which I was so happy about. It feels like stepping into a painting!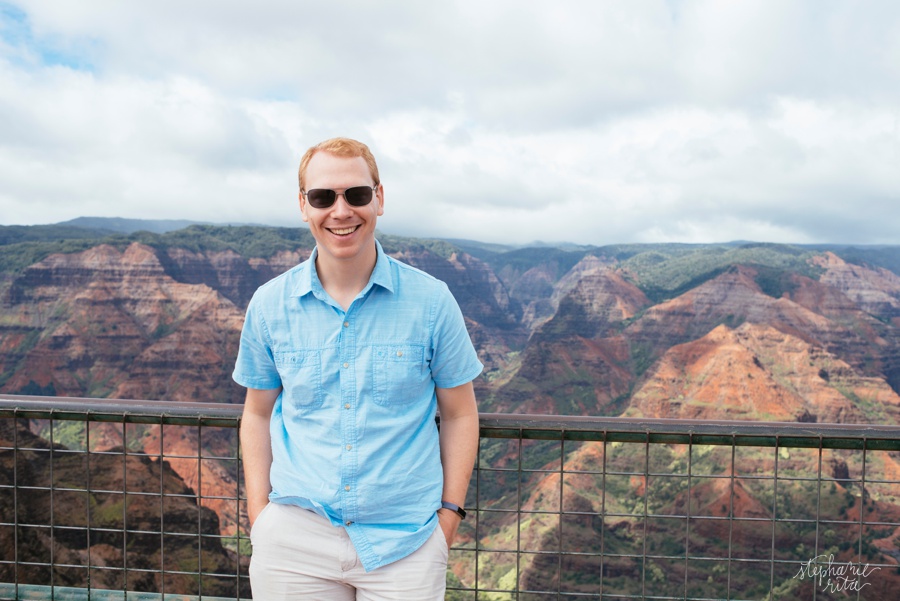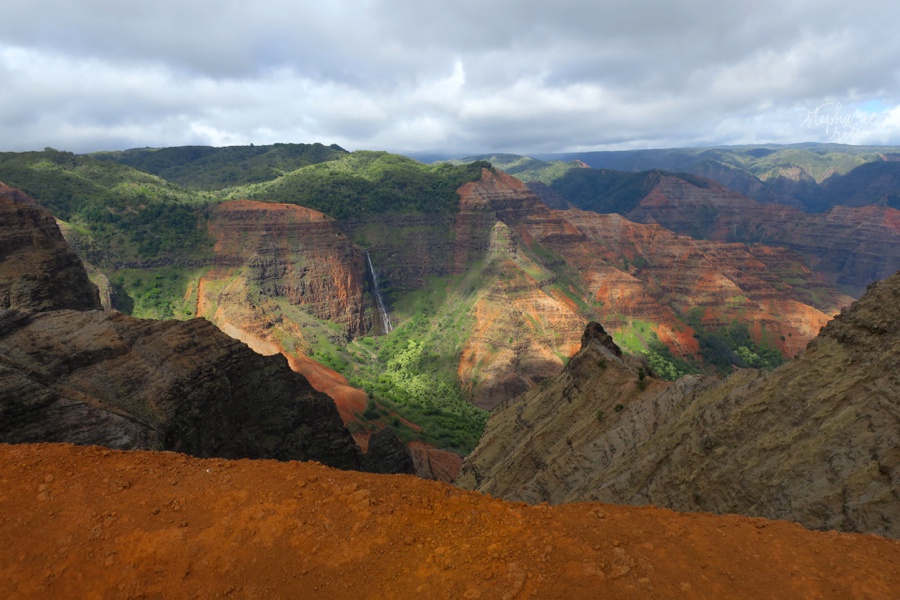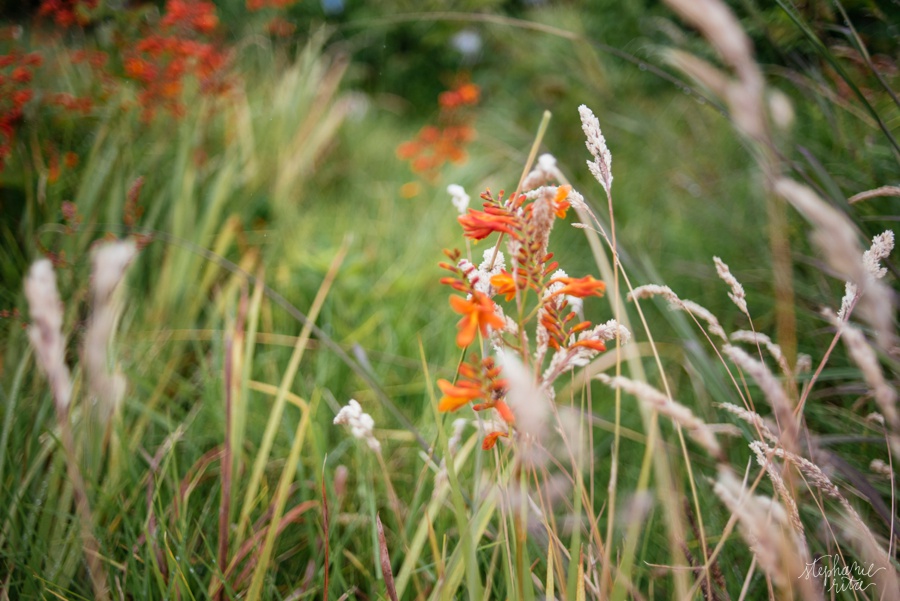 Because of the fire last time, the park officials wouldn't let up drive up to the tippy top of the canyon. We thought we'd seen it all anyways, so we weren't really that bummed. OH WHAT WE WERE MISSING.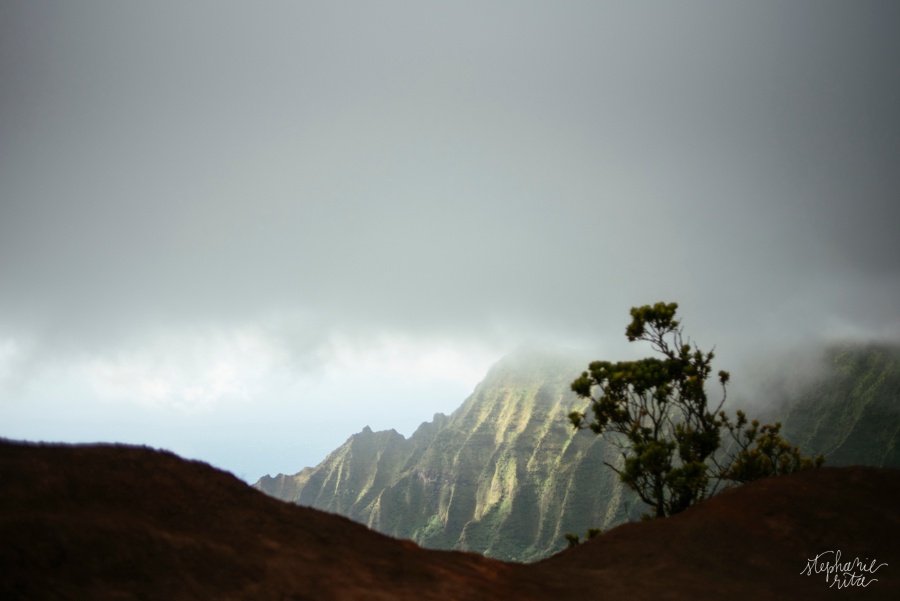 This. This is what we were missing. I had a moment with this view. It was steep and rugged and lush and had layers of green and gray and mist and blue and shadows and light and trees and ocean. It was the best view I've ever. seen. ever.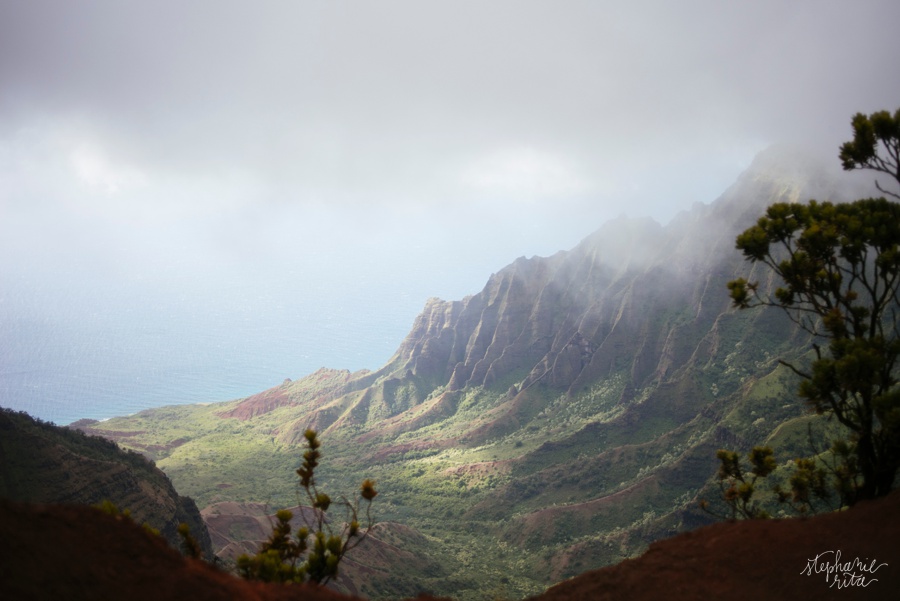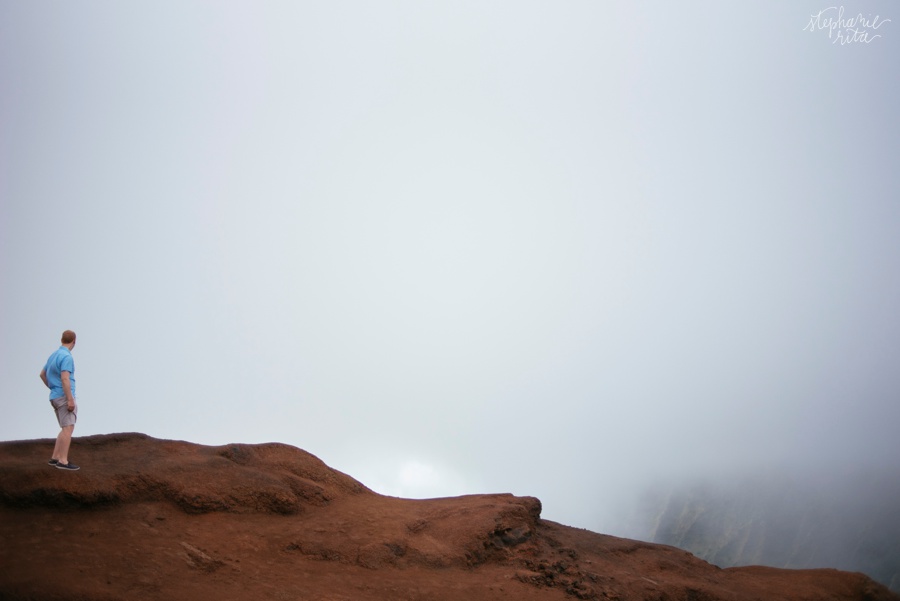 It was quiet and cloudy and it felt spiritual, it felt meaningful, like I had a reason for being there, but I'm still not sure why & I want to remember it forever.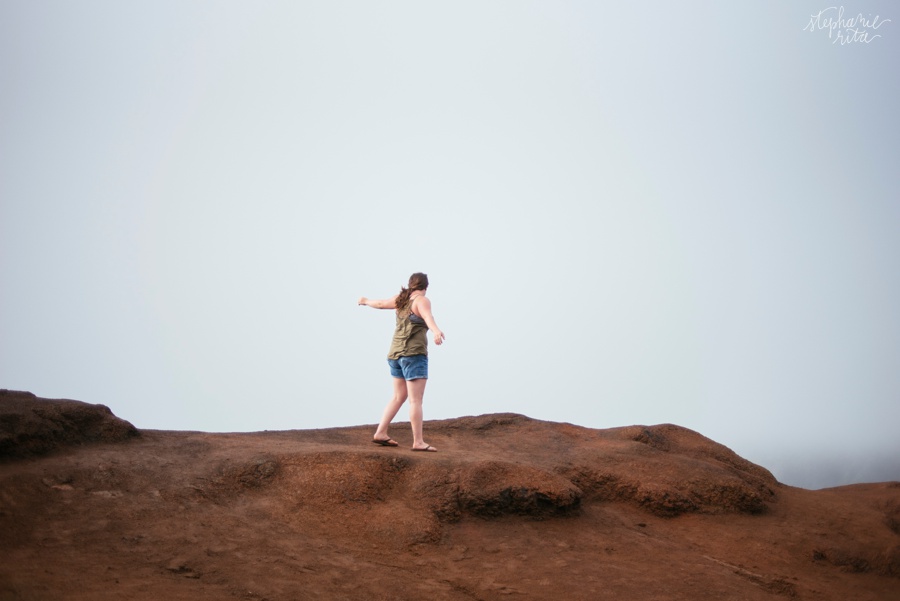 We now refer to this particular excursion as my "moment" and honestly I'm so glad it happened.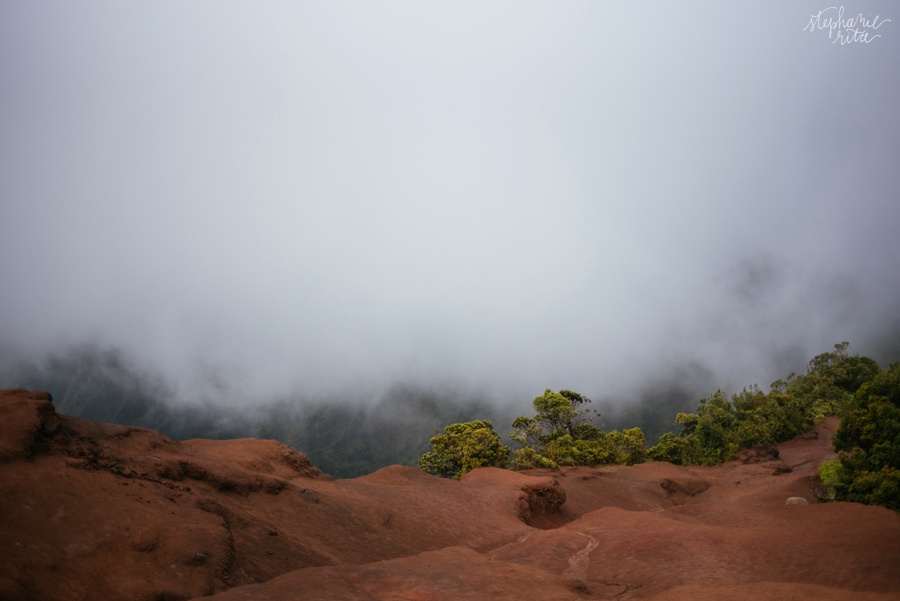 We spent 4 hours on a rough & wavy boat ride, getting soaked (to the point that my video cam was drenched and stopped working for a bit) and sunburned and caked in sea salt with every passing wave. But it was worth it to see the one side of the island from an angle few people get to see. Which is actually the same side that I had my 'moment' at, but from below. We saw dolphins! And a sea turtle! It was my first time seeing either in the wild and it was magical.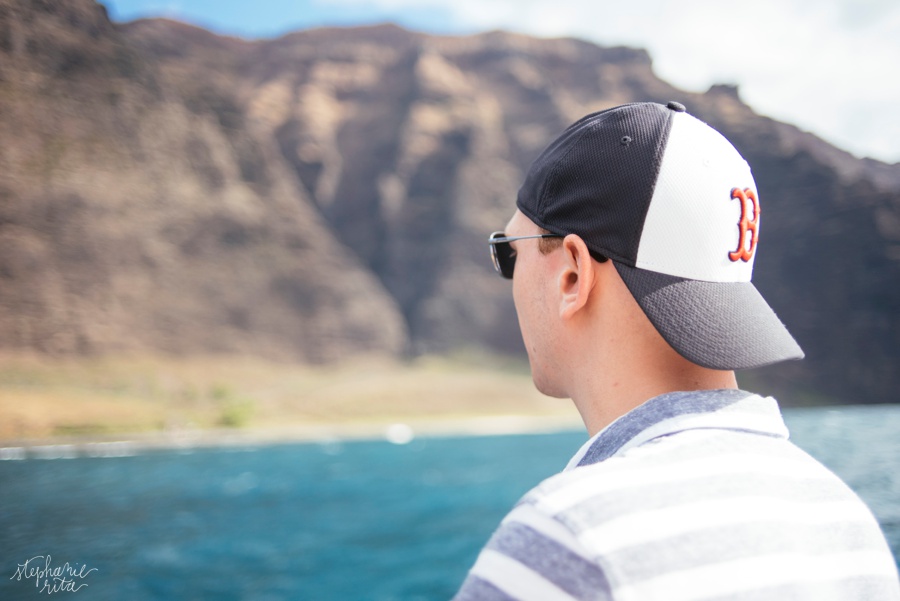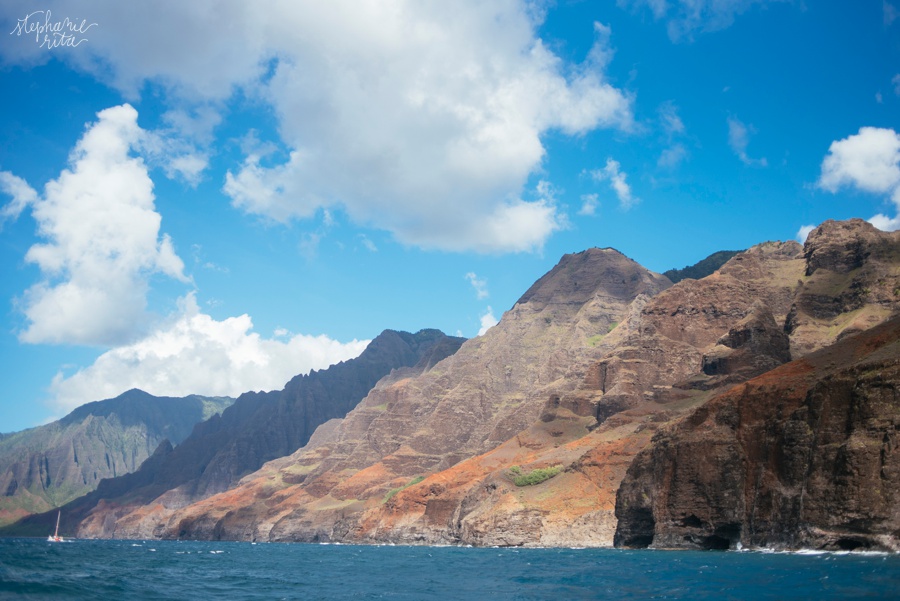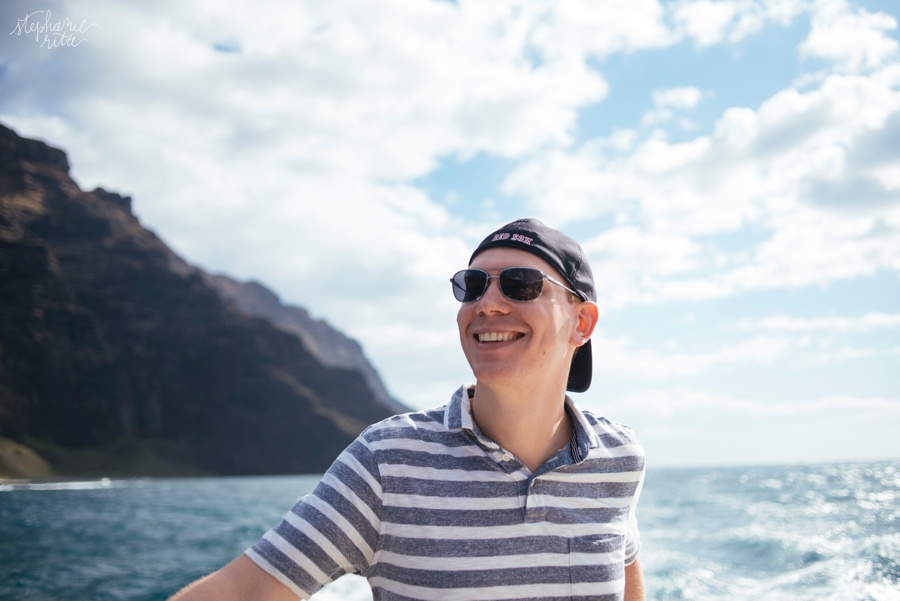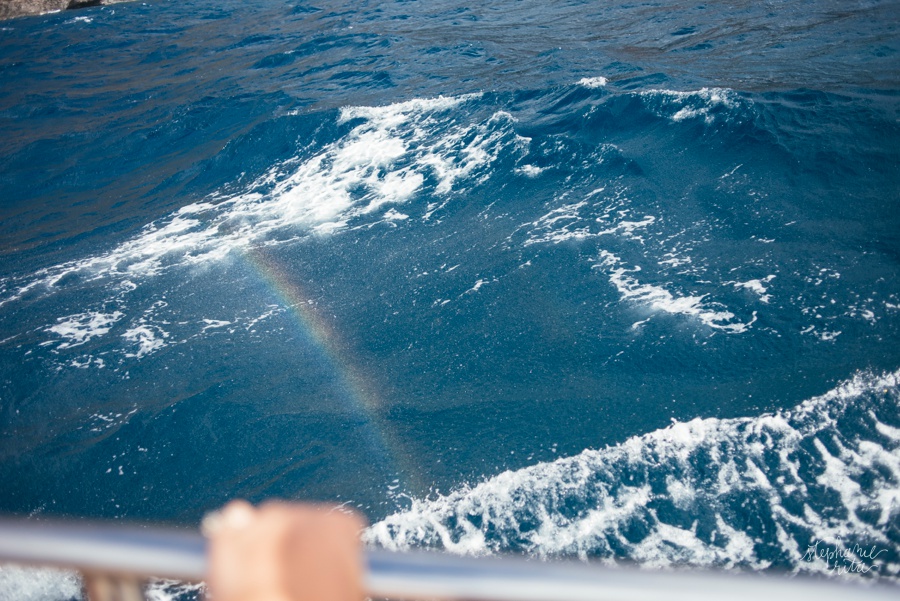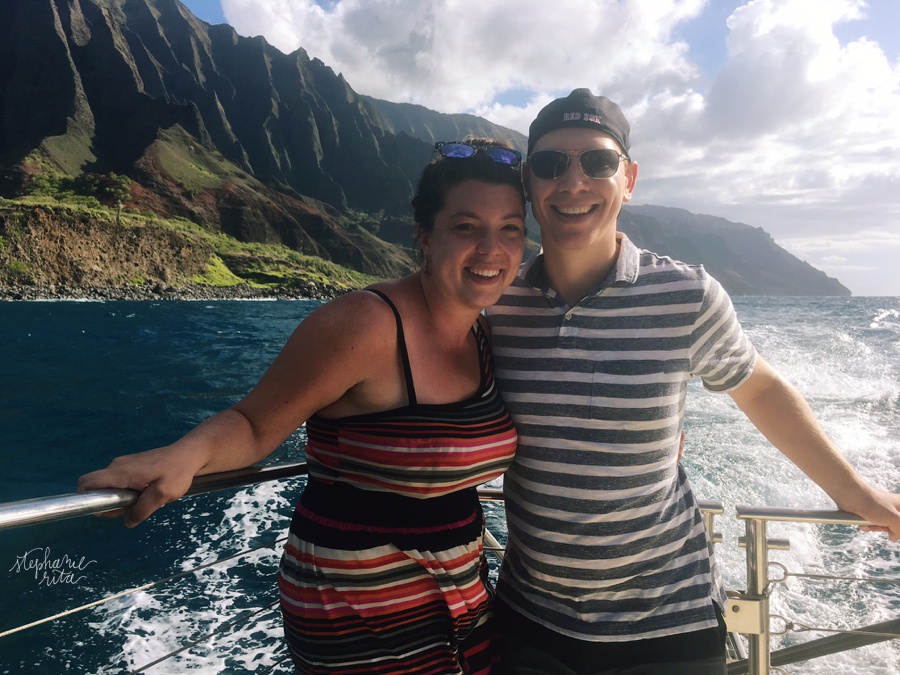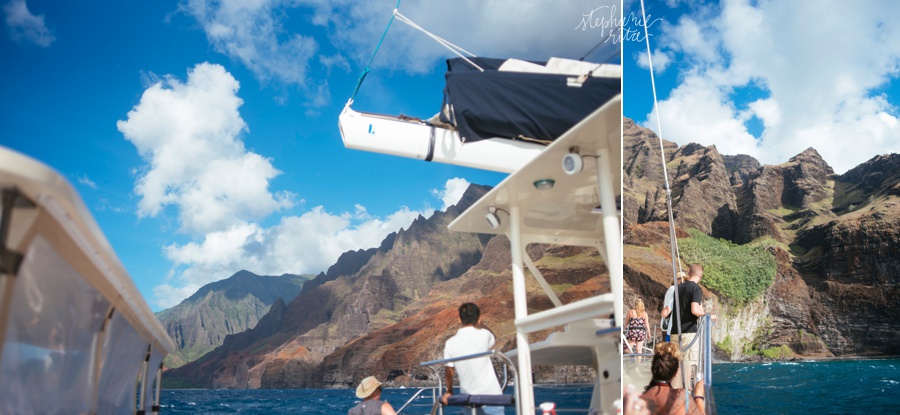 Even though we'd been to Kauai before, and even though it's a pretty tiny island, there were still a lot of it we hadn't seen! Ke'e Beach included! We hiked and swam there one afternoon, and had our 5 year anniversary photos taken there a different evening. It's a special place now. These are some views from the trail, views that swiftly reminded me of when we hiked in Cinque Terre last spring!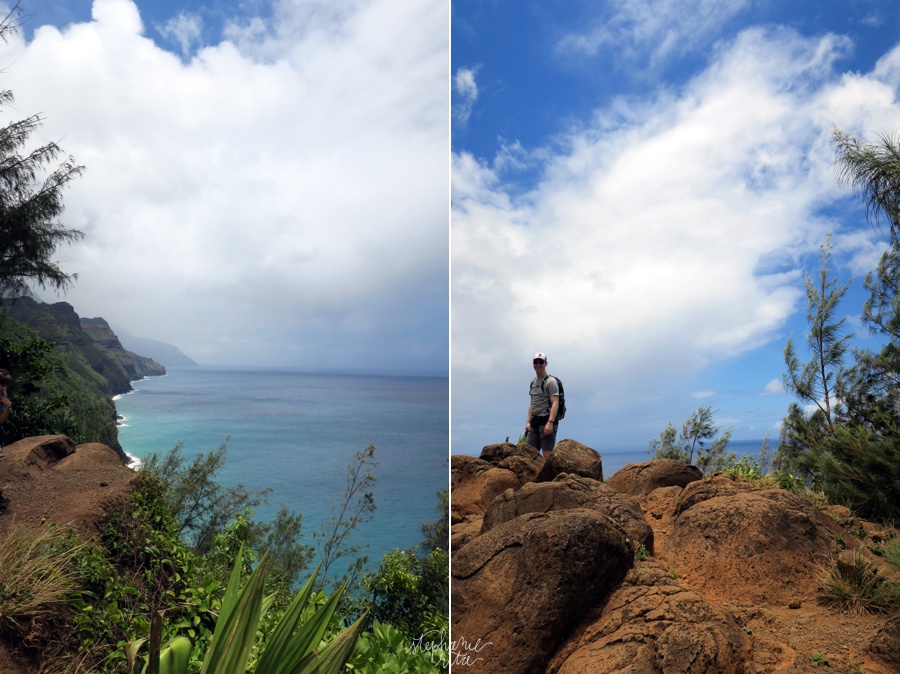 The road to Ke'e Beach also had a pretty cool sea cave! I've never seen anything like this before. It was huge and gorgeous and the water was much more turquoise than this photo lets on.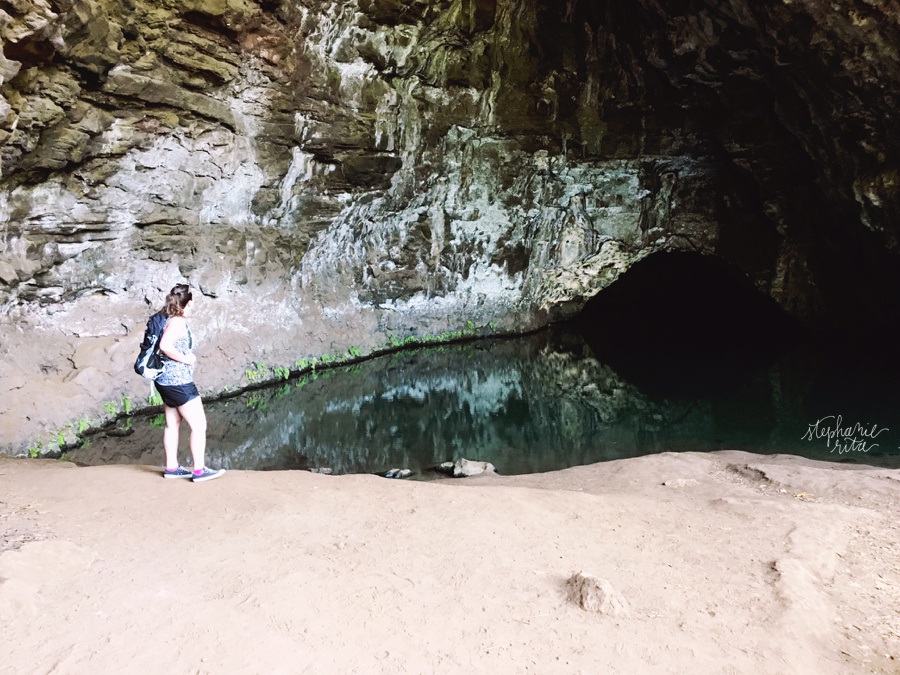 We spent most of our mornings biking 10 minutes to town along the beachfront sidewalk. I guess we didn't realize how great the tiny Old Town Kapa'a was last time we were here (or maybe it's just gotten way better in the last 5 years). There was a super cute coffee shop, a fresh juice shop, and a bunch of little local restaurants that we checked out over the 6 days we were on the island. (I actually went to that coffee shop 7 times in 6 days so… 😉 )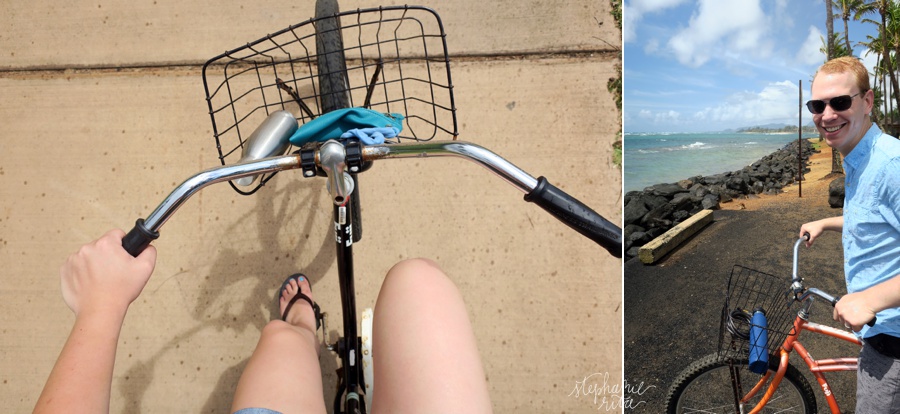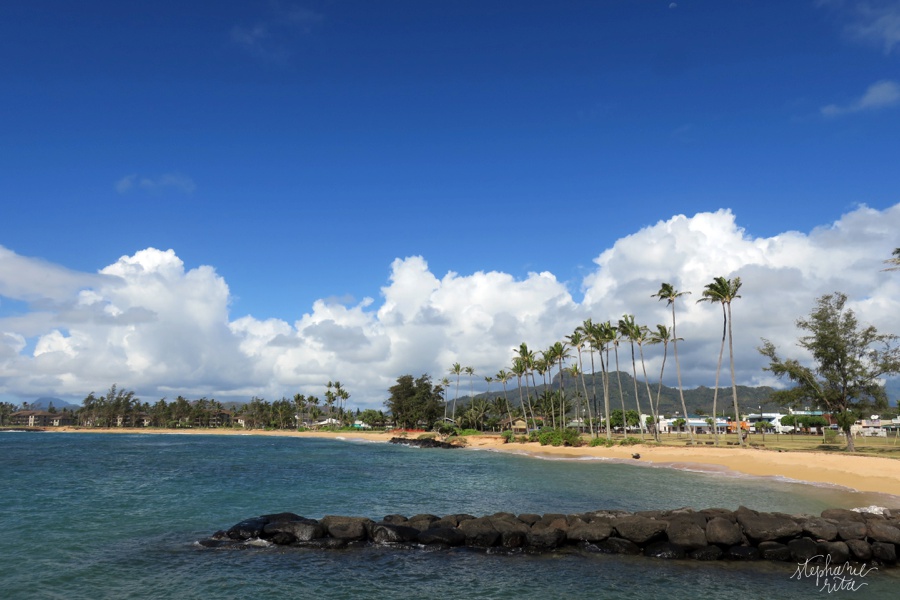 Secret Falls (we kayaked and then hiked to it!)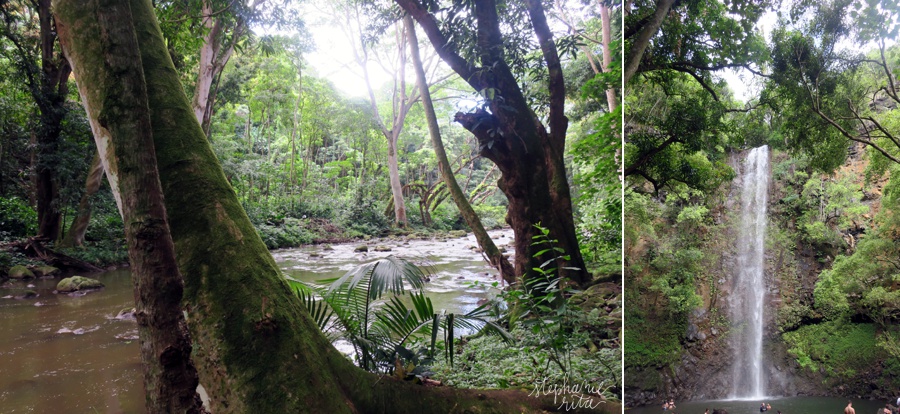 Oepeaka Falls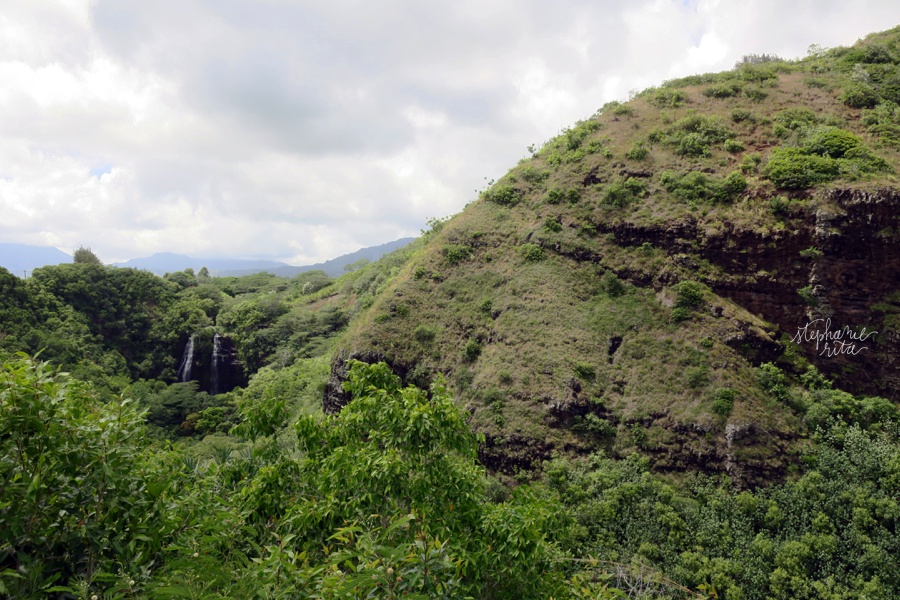 Kilauea Lighthouse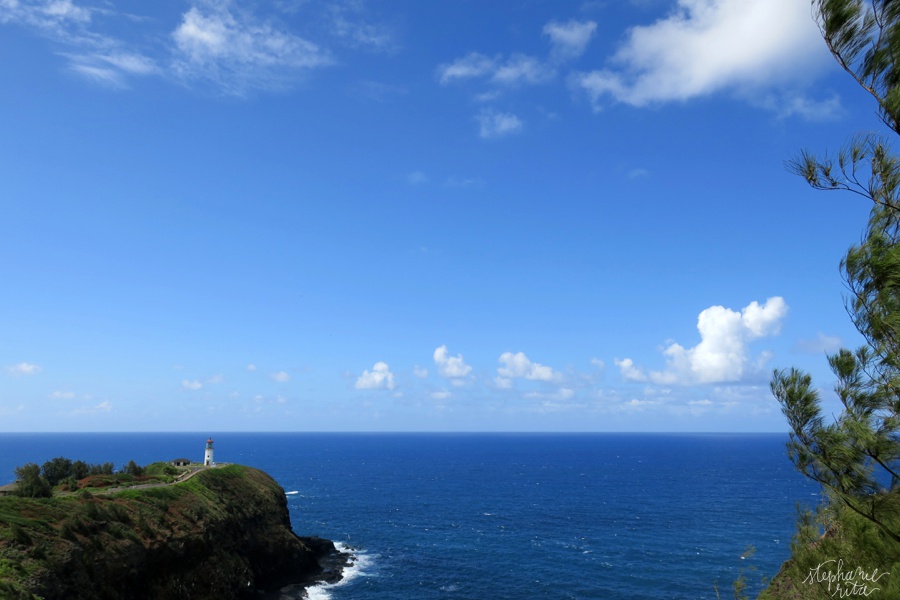 First morning's 5:40am sunrise, thanks jet lag!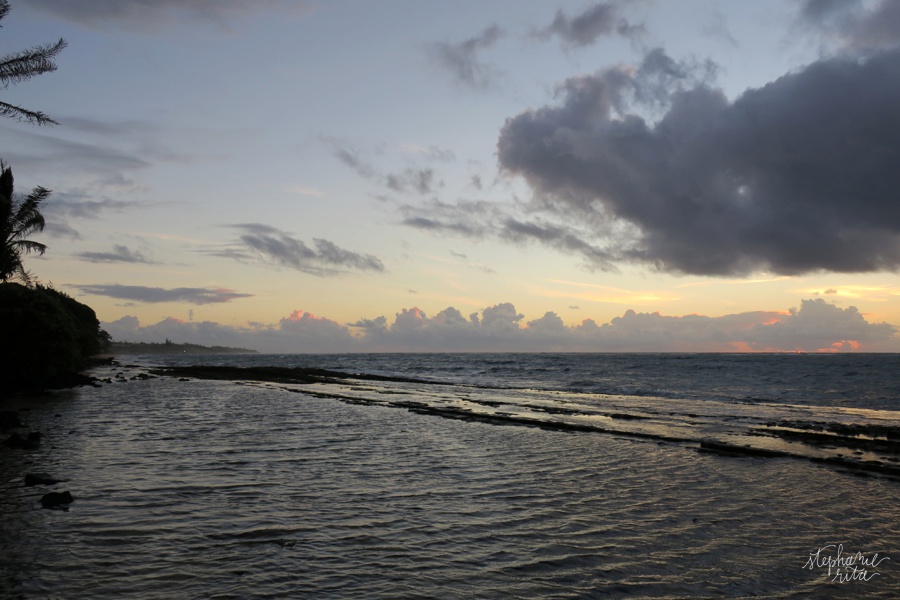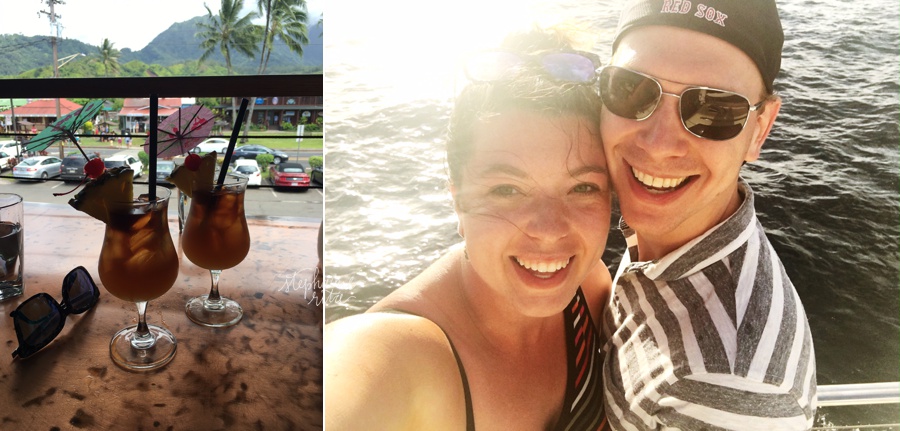 Though we did a lot of 'big things', a lot of my favorite memories were the simple things. Eating at one of our favorite burger places, walking or biking along the water to town, how it always started to rain as soon as we got on our bikes, sticking our toes in the water basically whenever we wanted to, sleepy sunrises, how the things we'd done 'last time' still felt so new and fresh and exciting 'this time', eating dinner and watching HGTV in our condo one night because we needed a quick sense of 'regular', soaking in the sunny surf vibes from all the locals, driving with the windows down listening to the most perfect vacation playlist we created together, the constant sight lines of either rugged mountains or gorgeous ocean or sometimes both…
This island means a lot to us. It's where we took our first big trip together. It's where we spent our first week of our marriage. It's a place we dreamed about going back to for 5 years. It's where we DID go back and made even more great memories and had more great experiences and fell more in love with the island and each other. SO CHEESY, I GET IT, BUT IT'S IMPORTANT OK.
Big Island pics tomorrow.