"Darlin' I know, together we'll be growing old
I will never let you go, my love is only for you."
– Johnnyswim, First Try
~*~
Kathleen and Jeremy are married! Their wedding day was graced with the MOST perfect spring weather – it seriously couldn't have been a more beautiful day. It was an honor to be there with them as they started this new journey of marriage together. Enjoy these photos from their day!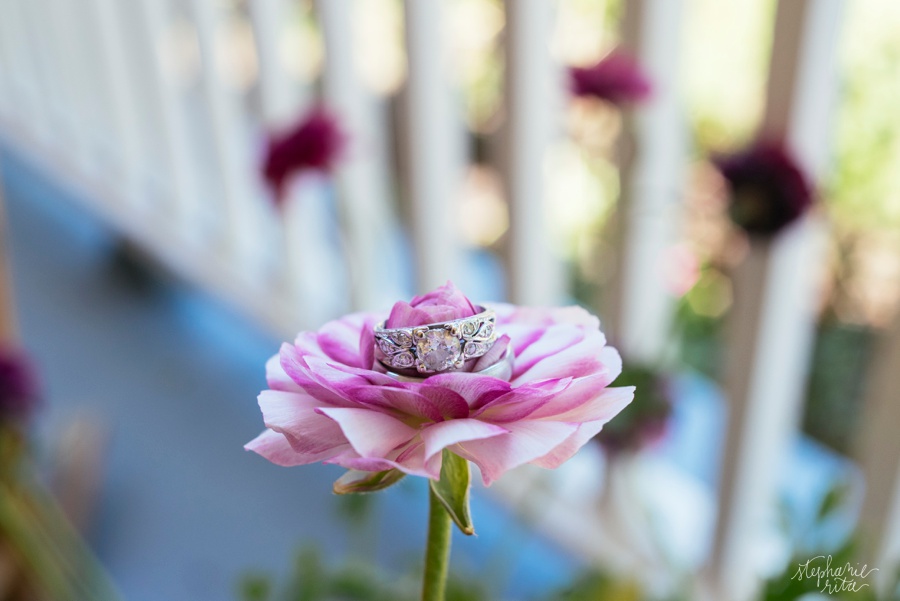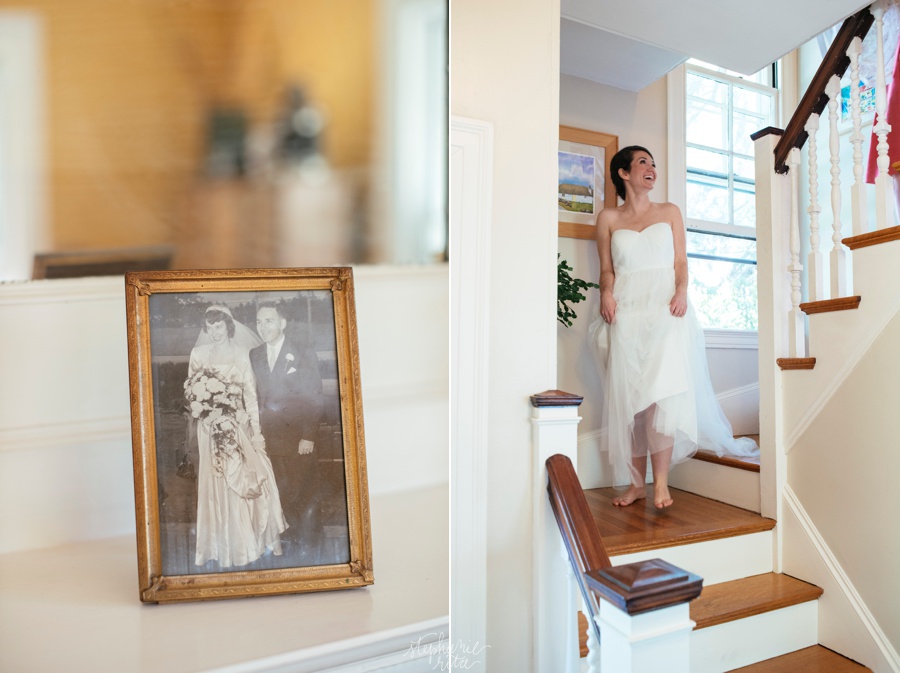 Both Kathleen and Jeremy got ready for their celebration in the company of their closest friends and family. I started the day with Kathleen and her ladies at her parents' gorgeous home. Her mom helped her into her gown, and Jeremy's mom joined in to help Kathleen put on earrings. That was a fun moment 🙂 I love all these getting ready photos!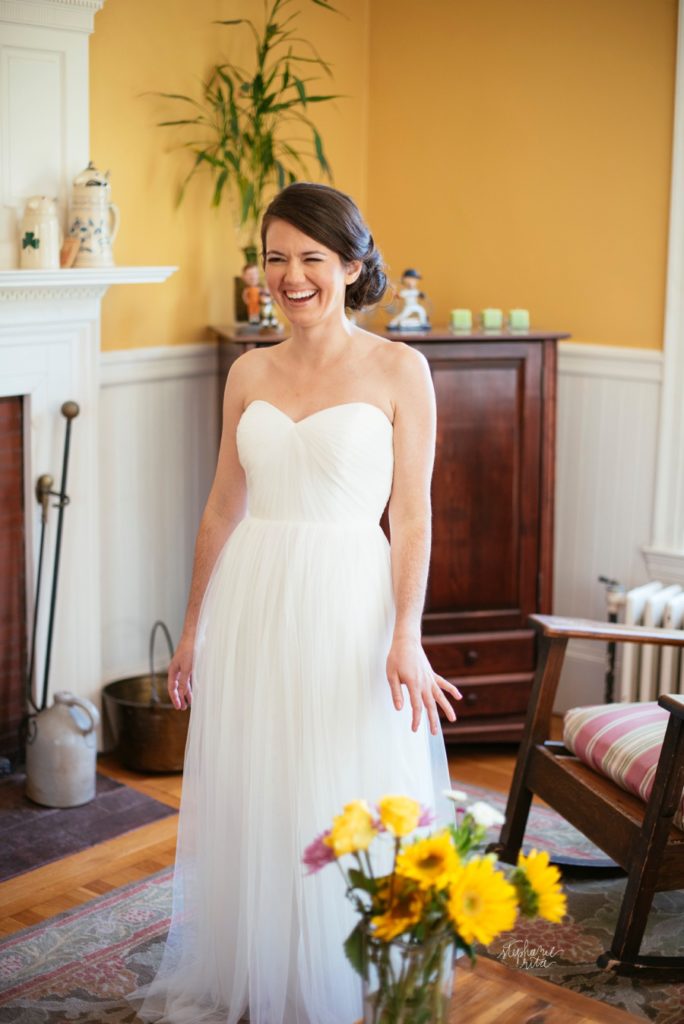 Kathleen toyed with the idea of adding a few flowers into her updo. She ended up choosing some baby's breath, and these frames of her maid of honor helping her decide are really special.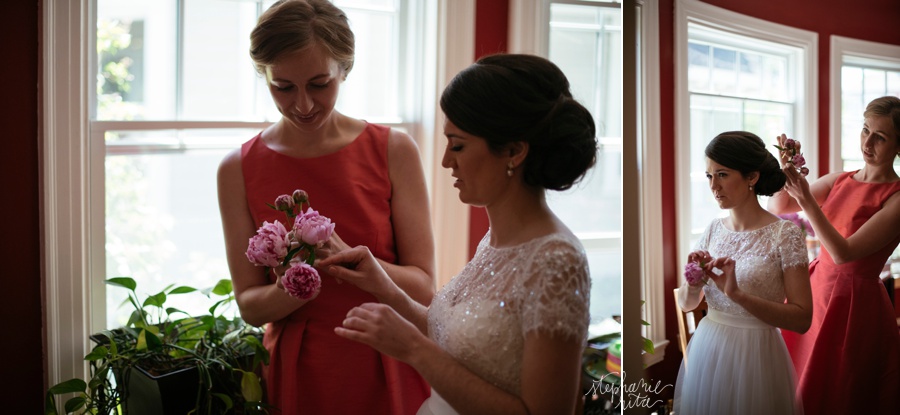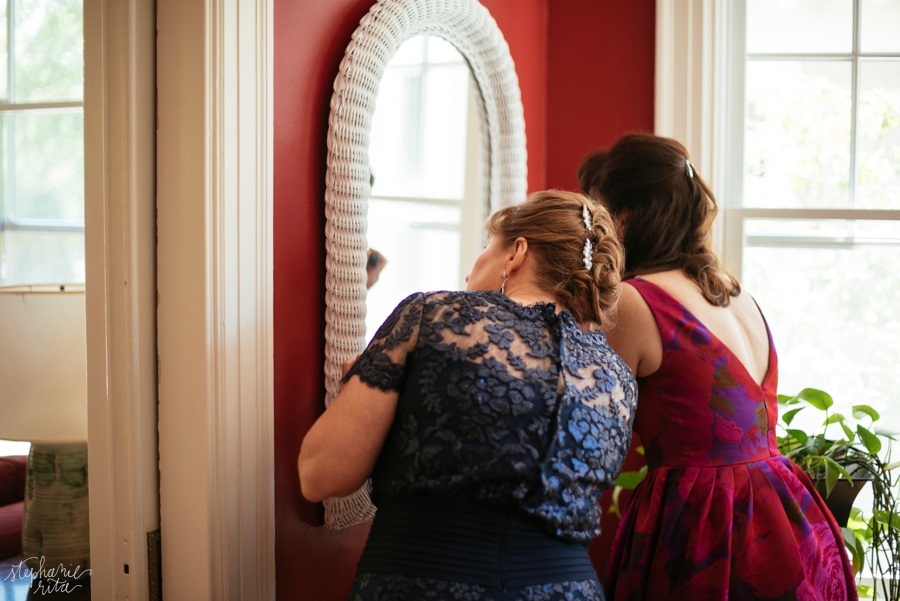 On K+J's first date, it started raining and neither of them had an umbrella. Jeremy made sure Kathleen was all set jusssttttt in case it started raining on their wedding day!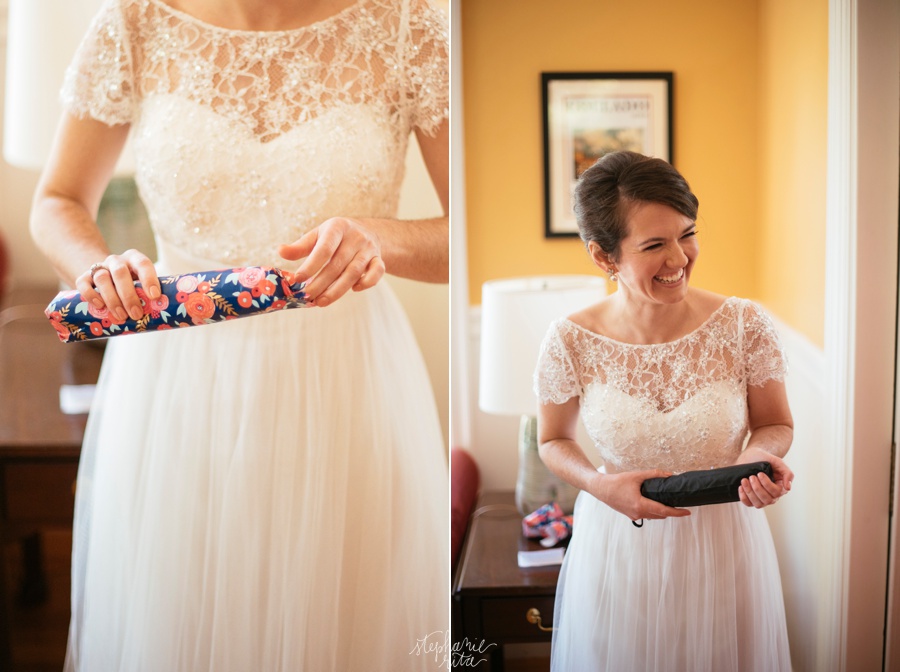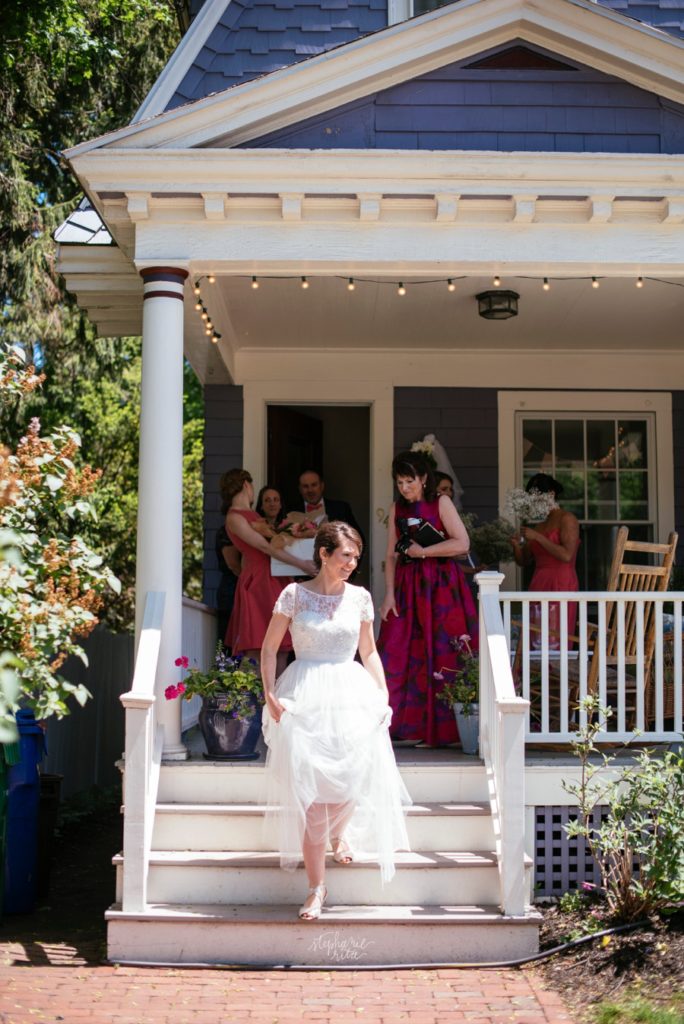 My second shooter Sue hung out with Jeremy and his guys all morning! Love these next few frames of them getting ready together.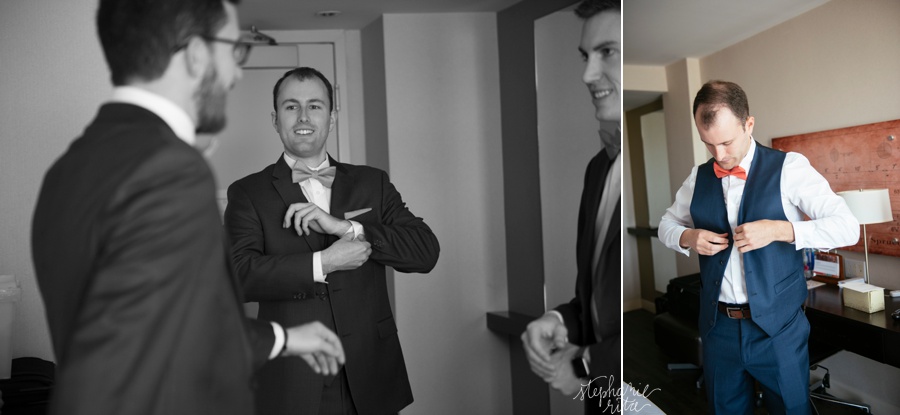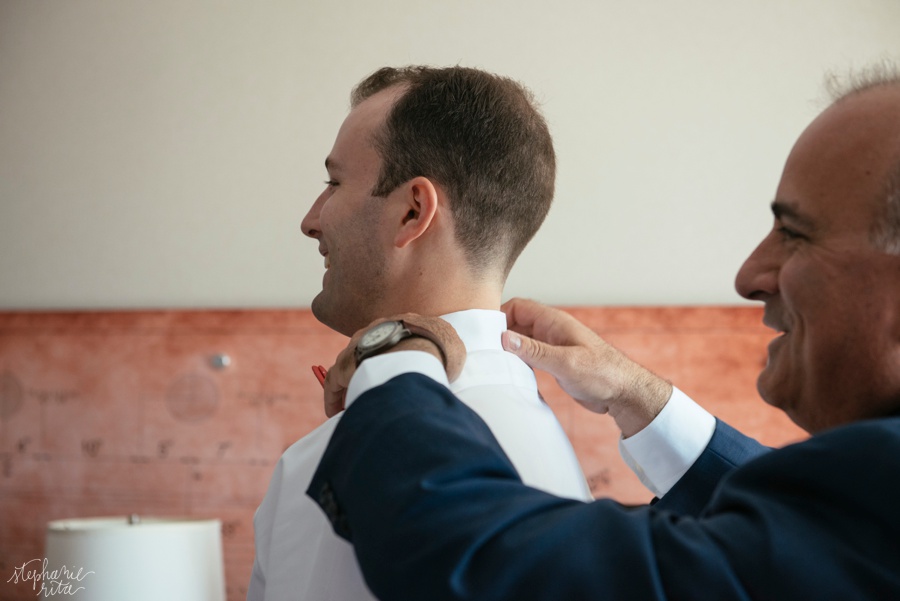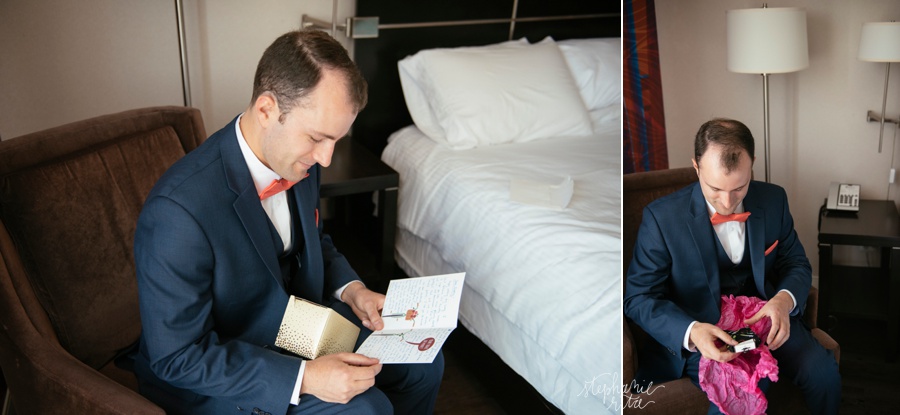 First look, first look!!!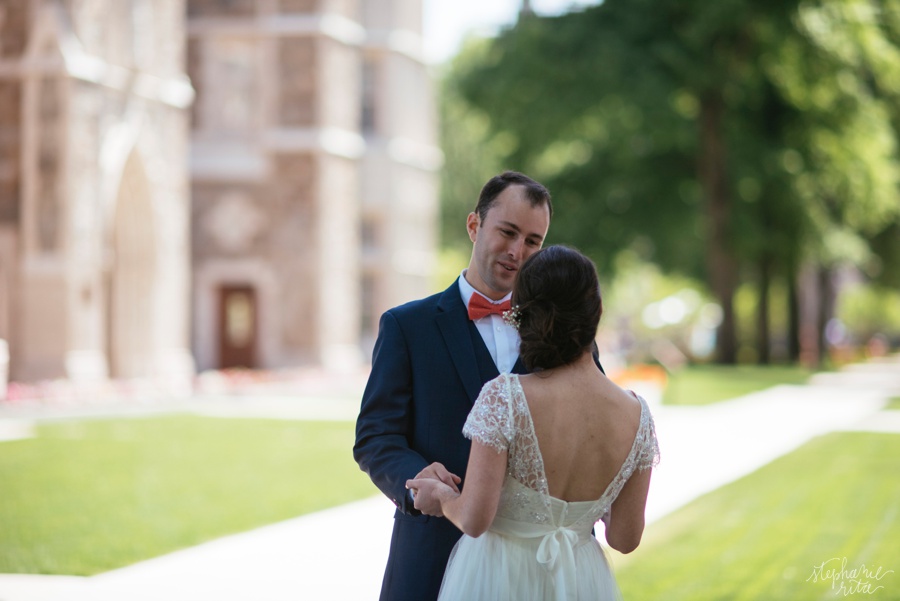 My favorite. Especially when there are so many tears 😉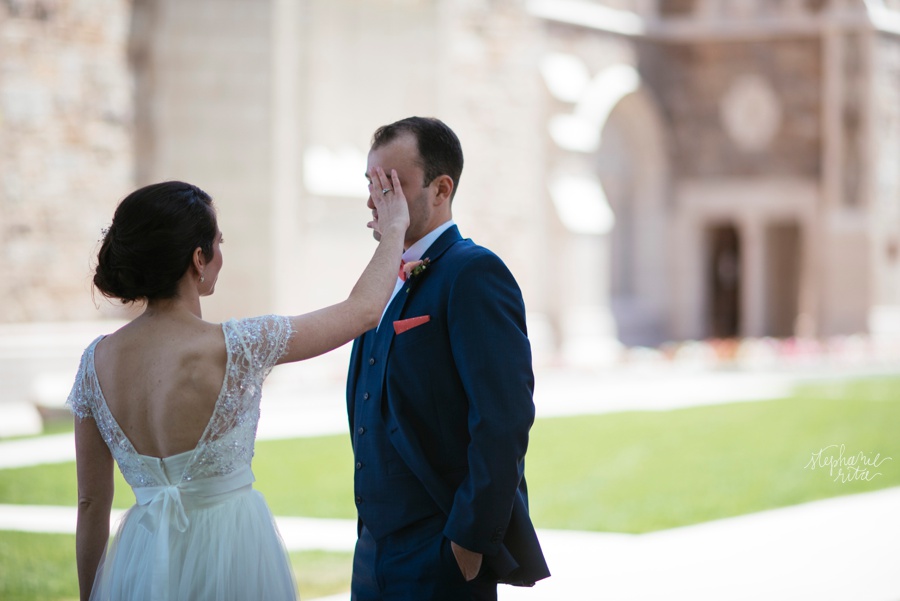 Kathleen and Jeremy met at BC, so what better backdrop for a few of their portraits. The architectural details and the lighting were both on point.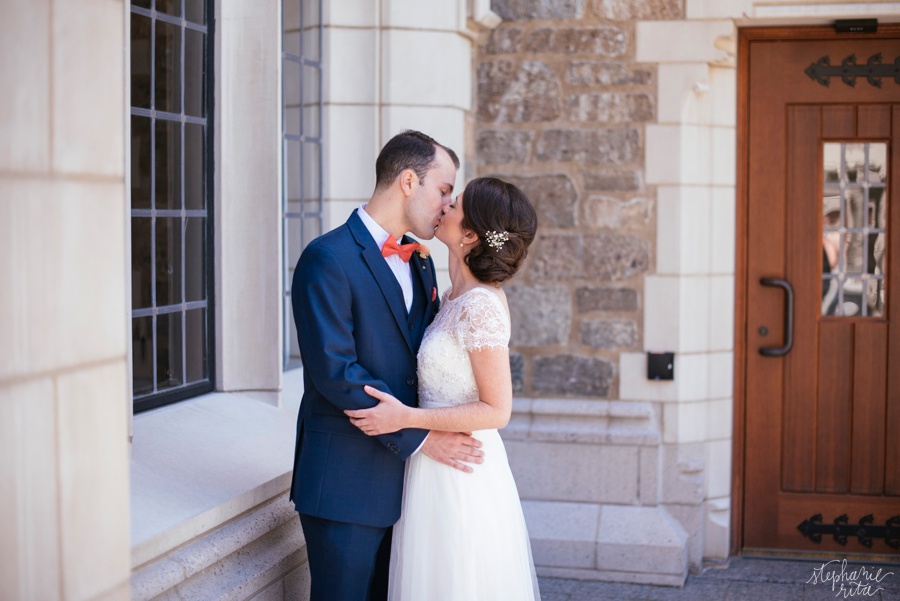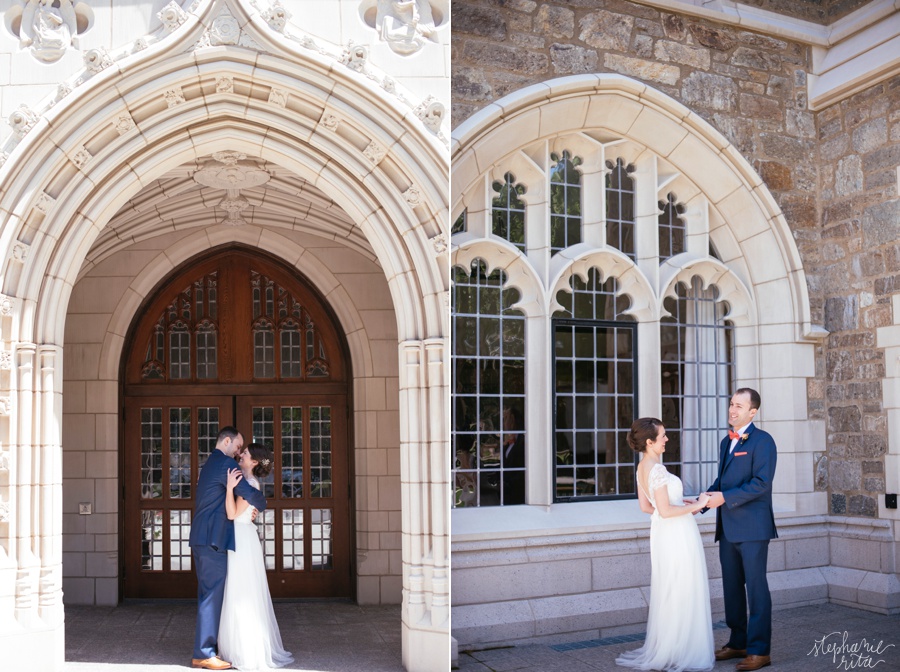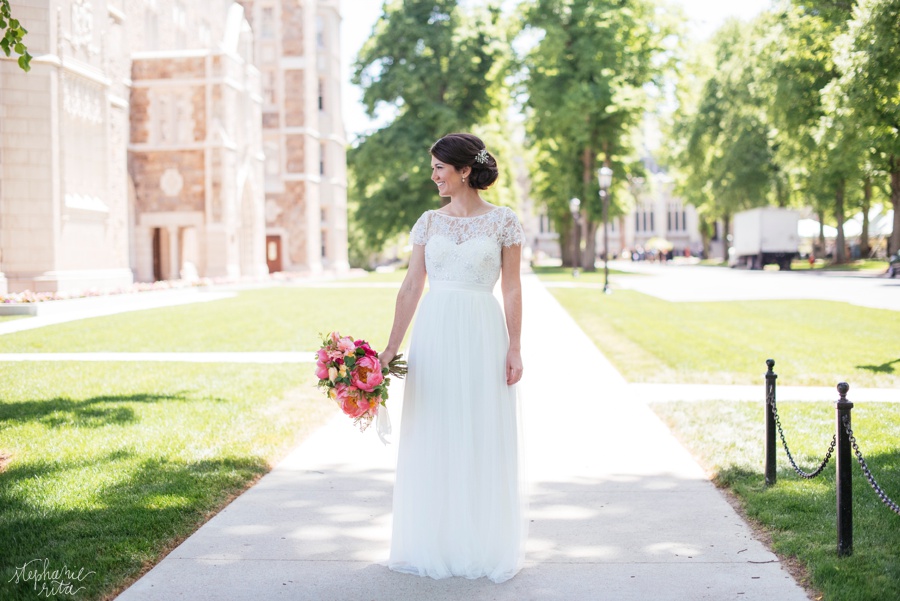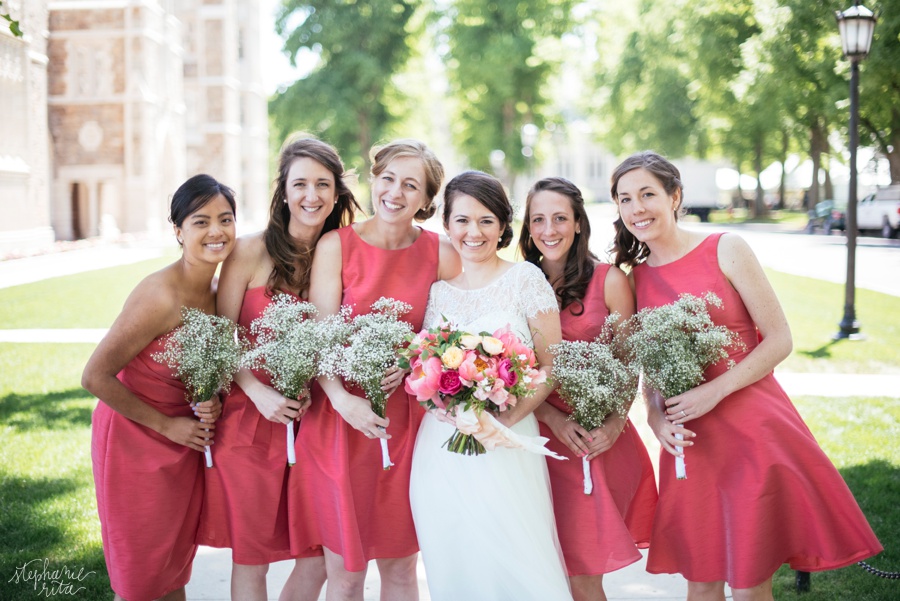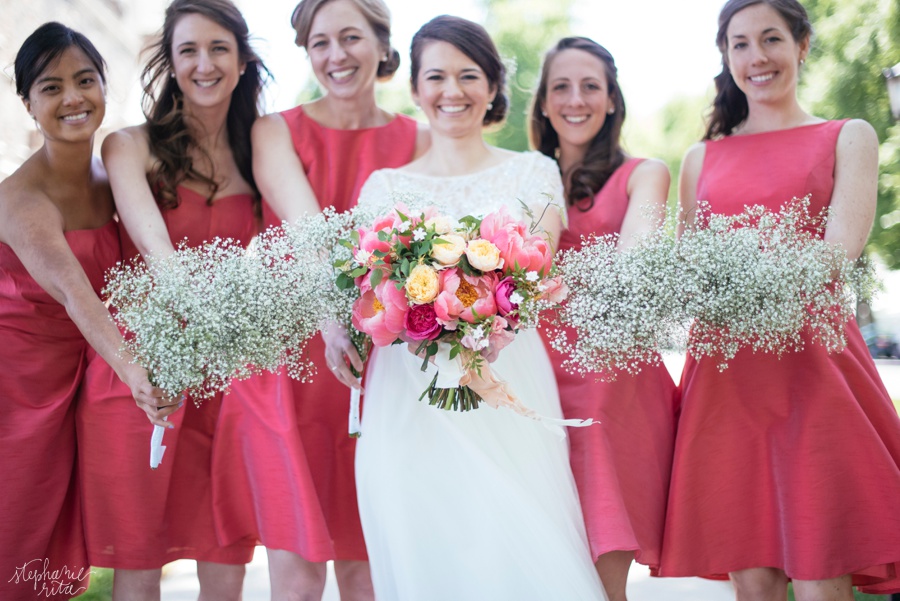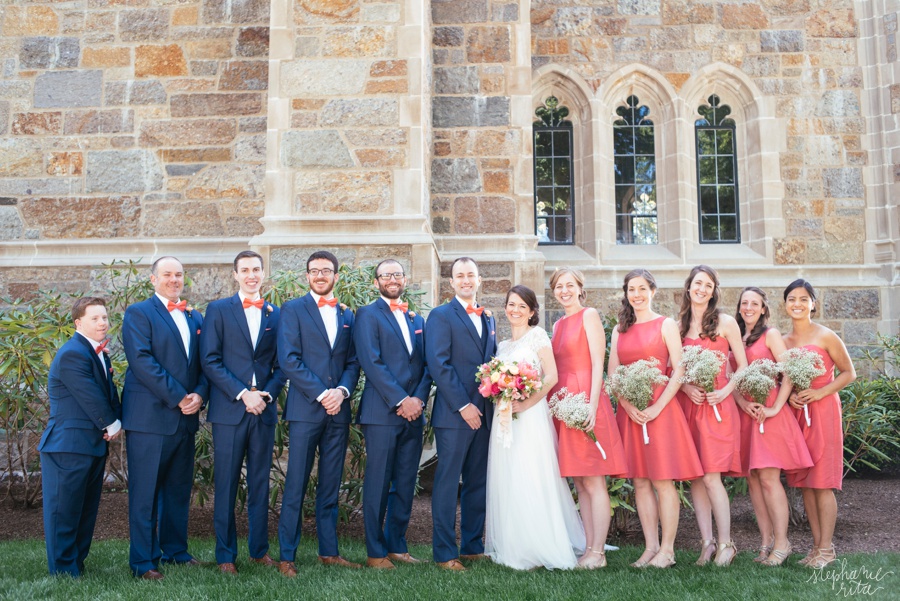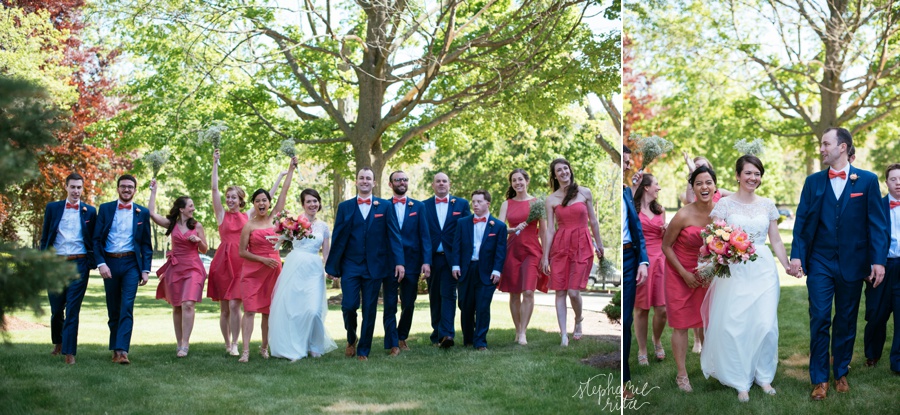 The ceremony was held at the gorgeous Our Lady of Help in Newton. K+J's service was emotional and personal. One of my favorite moments was the family group hug when Kathleen and her dad reached the altar. Really, really special.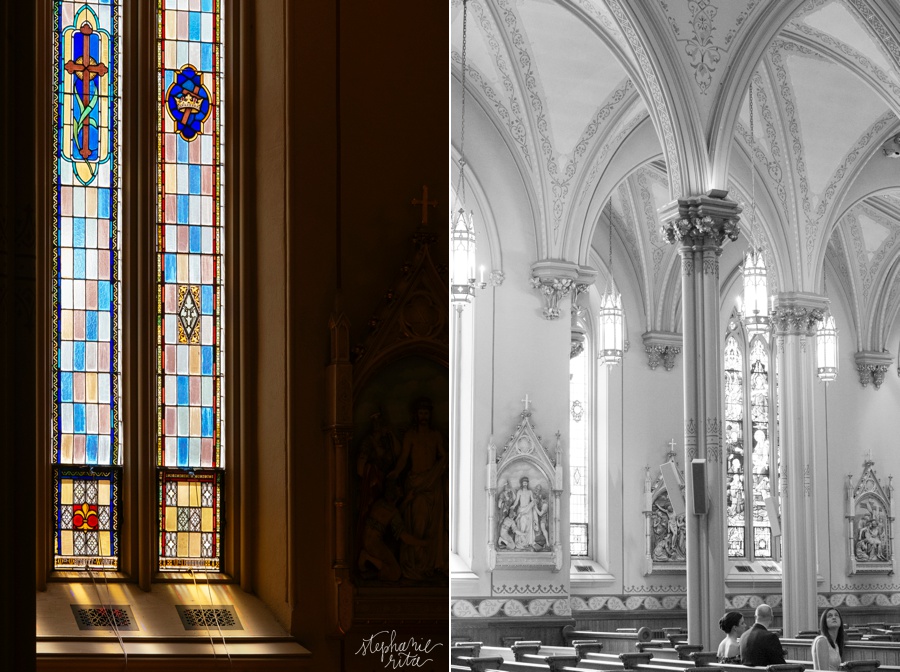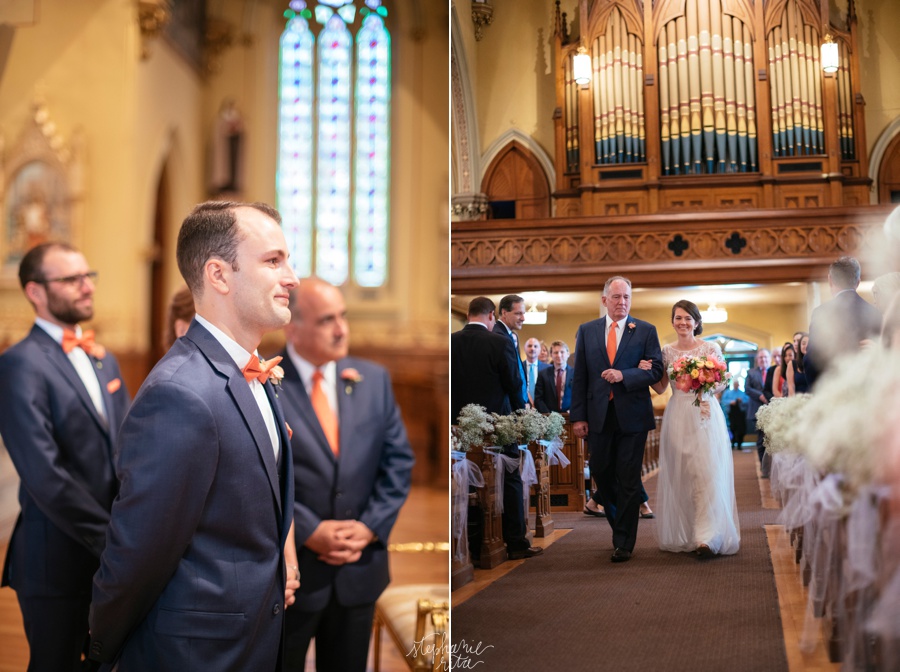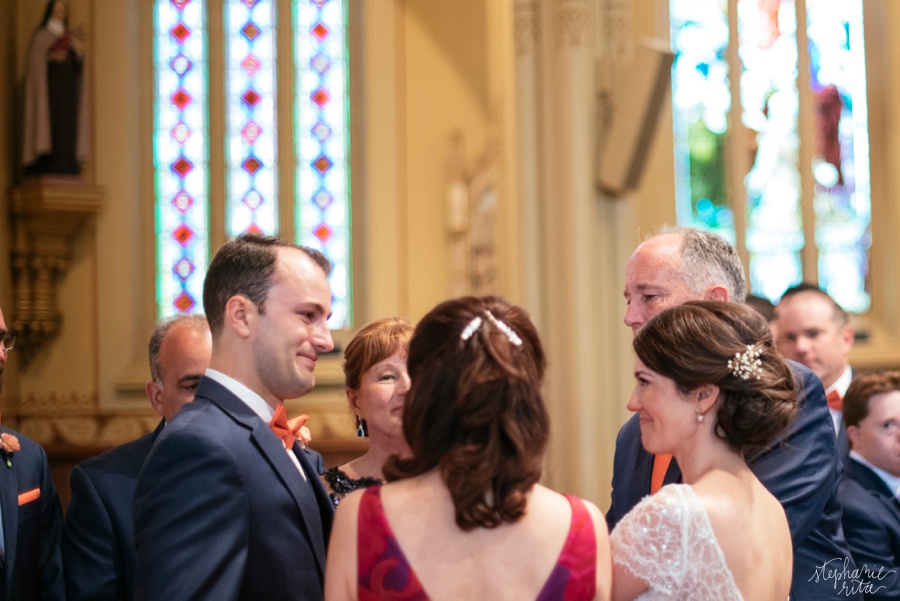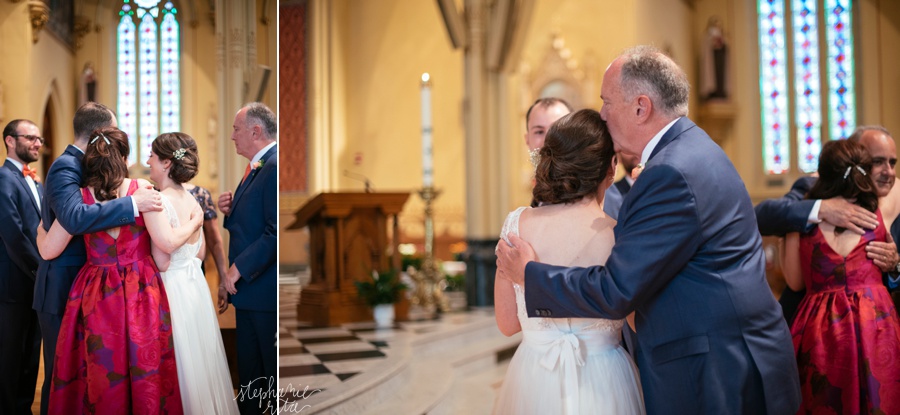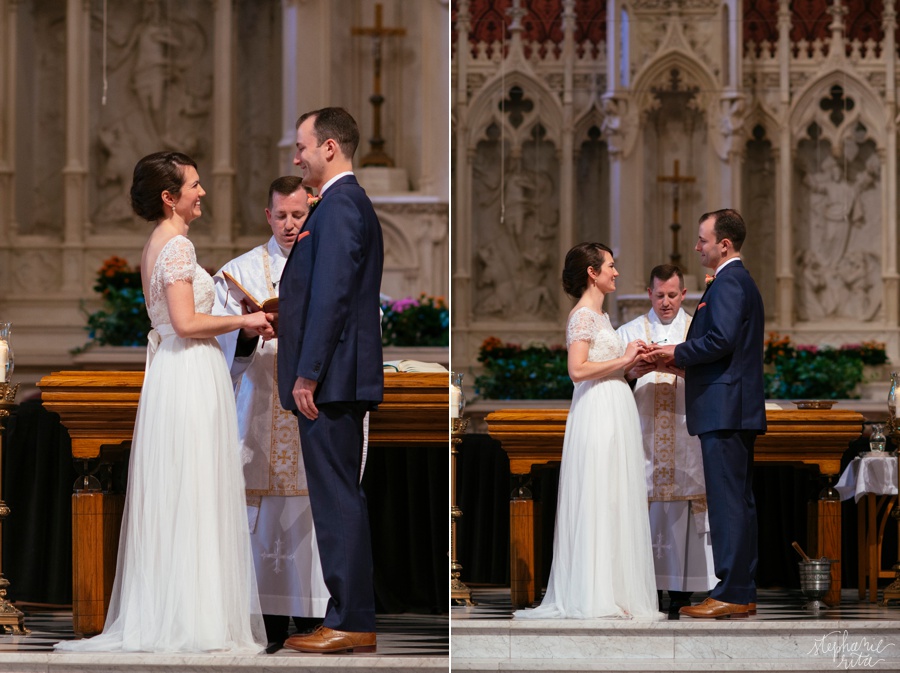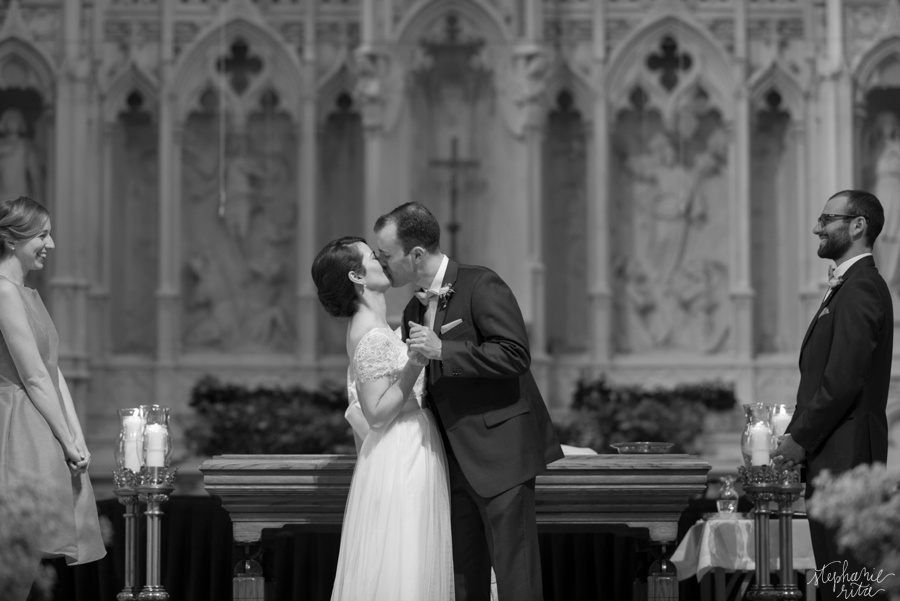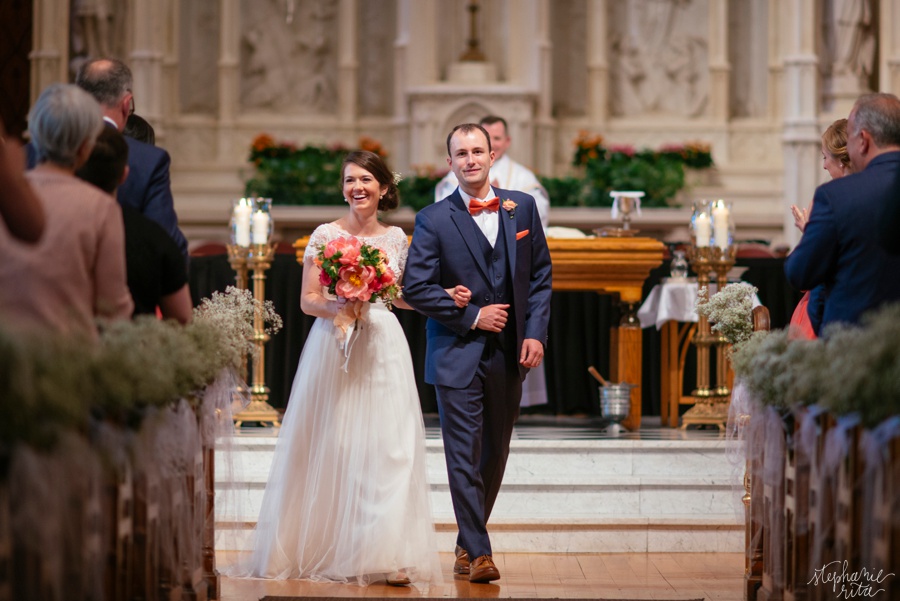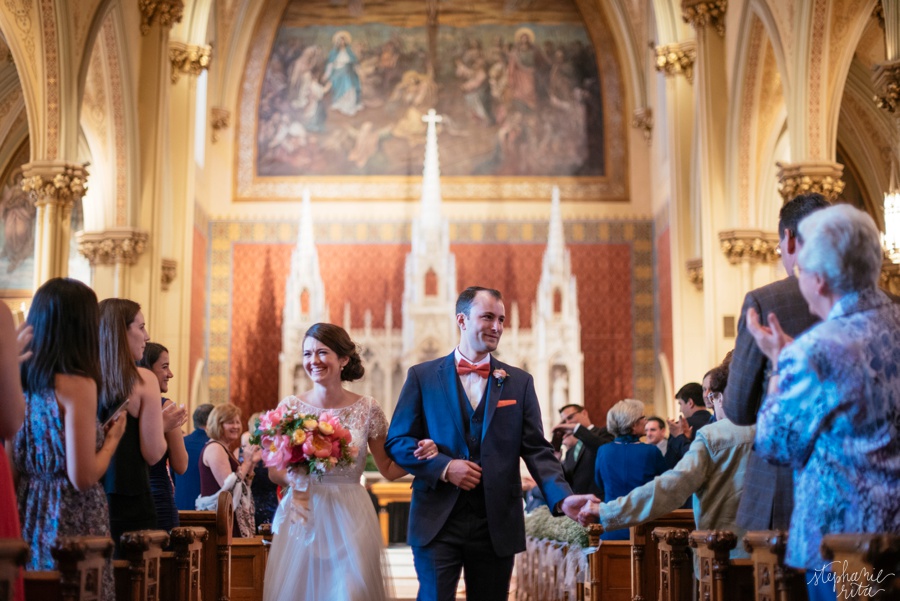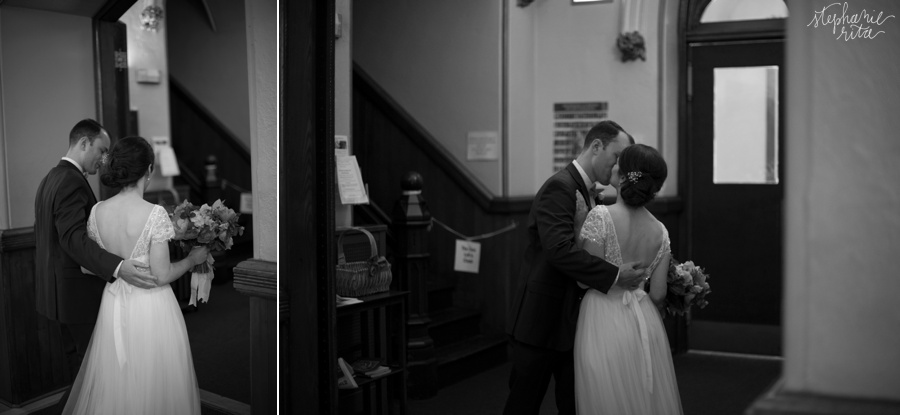 Their love is sweet and relaxed. They could have stood right there in the church lawn for the entire rest of the day just talking and laughing together. It was so easy to make images of them; they were being themselves and that's the best way to be in photos.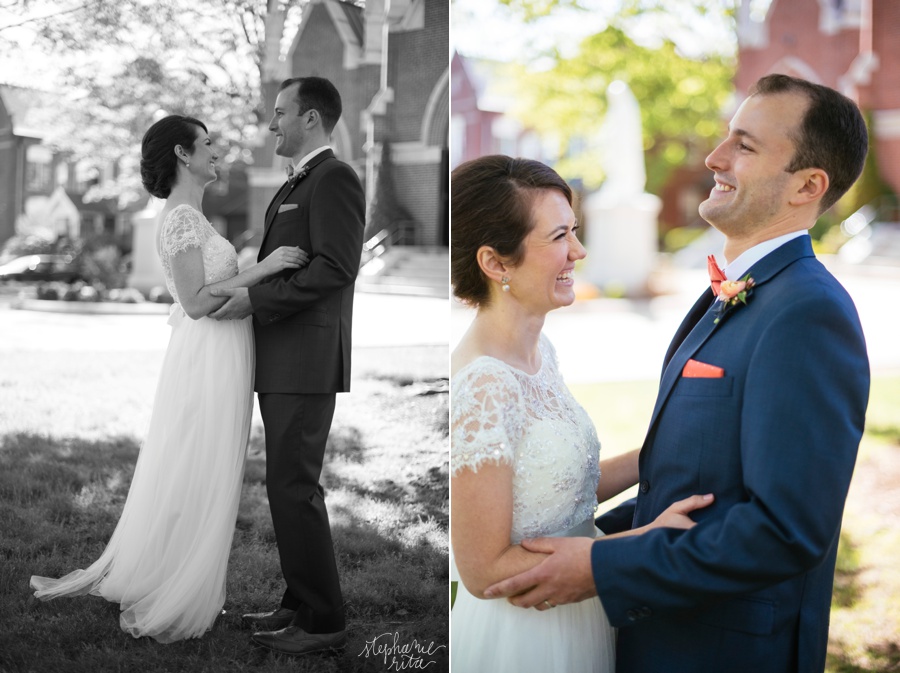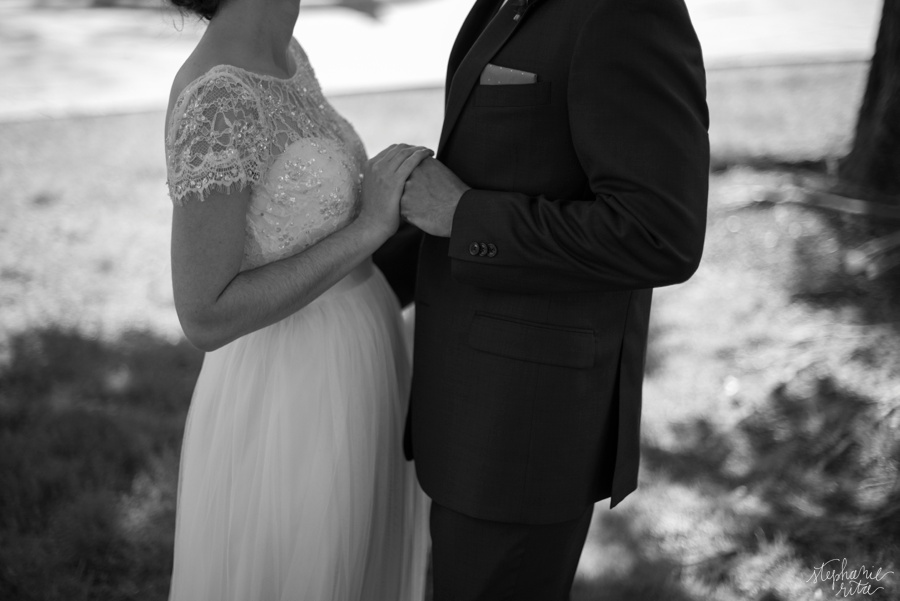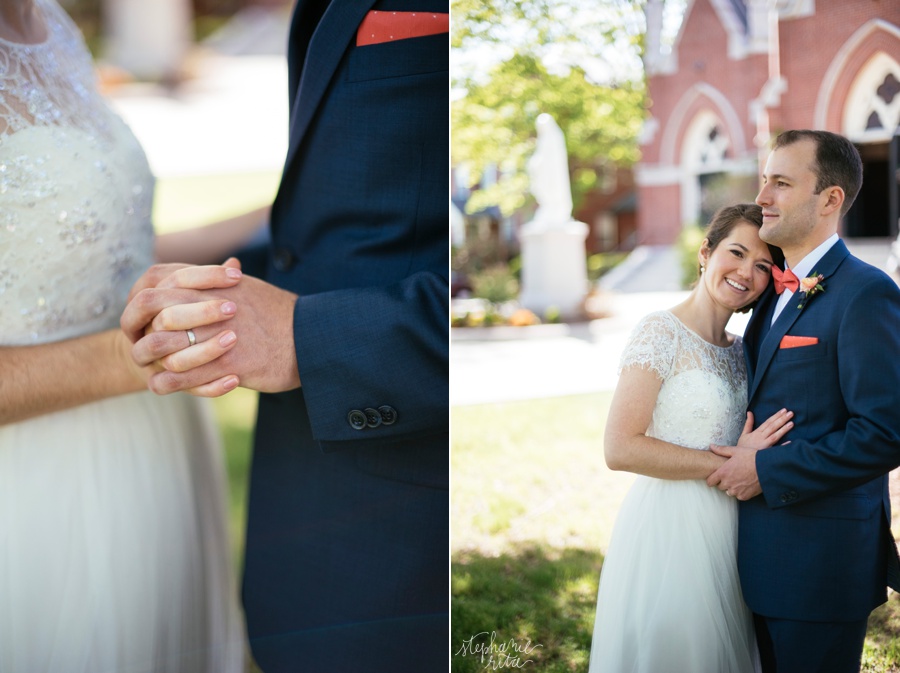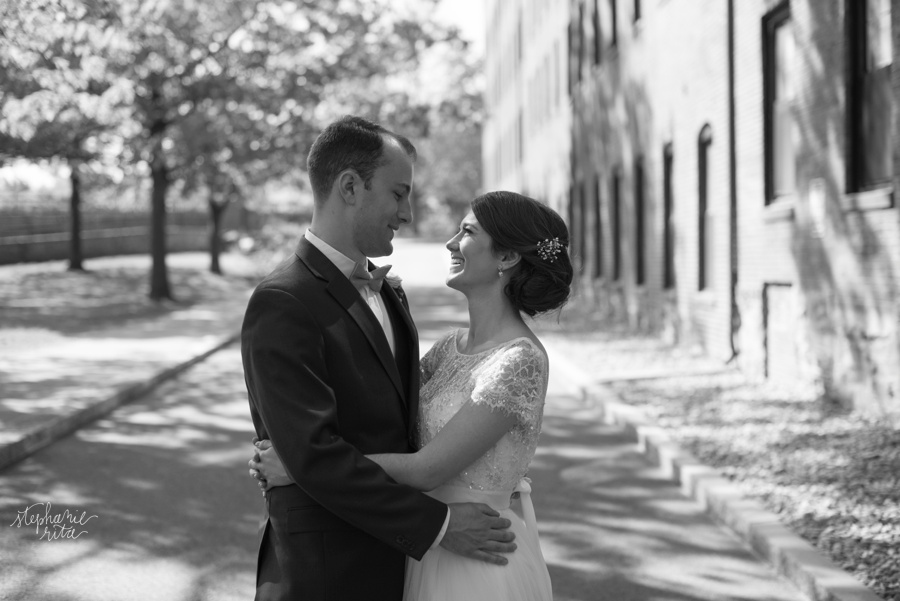 This image. I said "Put your foreheads together and just soak each other in." I didn't expect this, and I'm not sure Kathleen did either. But those emotions!!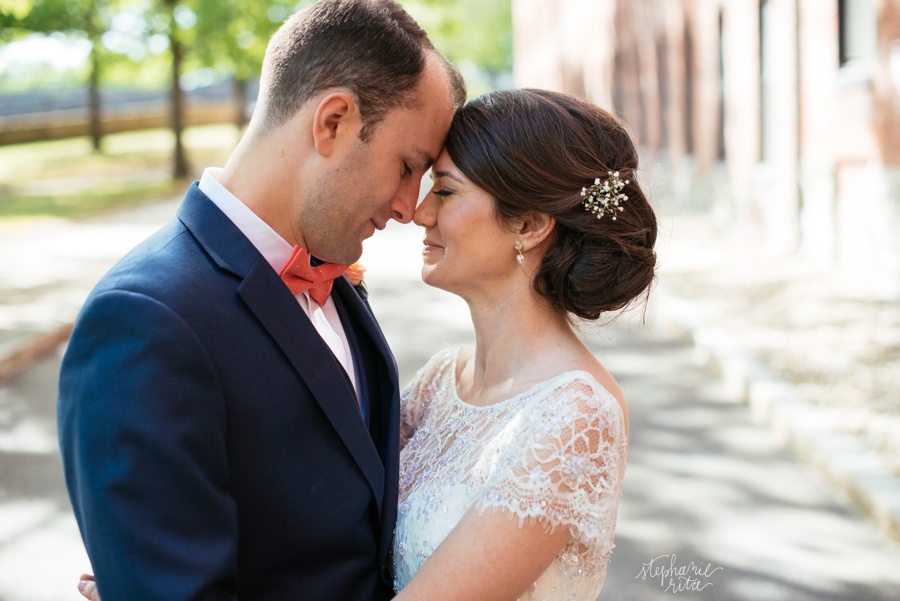 The grounds of the Charles River Museum of Industry and Innovation (from now on let's call it CRMII) were endlessly cool! There was a footbridge, lots of brick, and a boardwalk right next to the Charles River. So basically we had tons of photo fun 🙂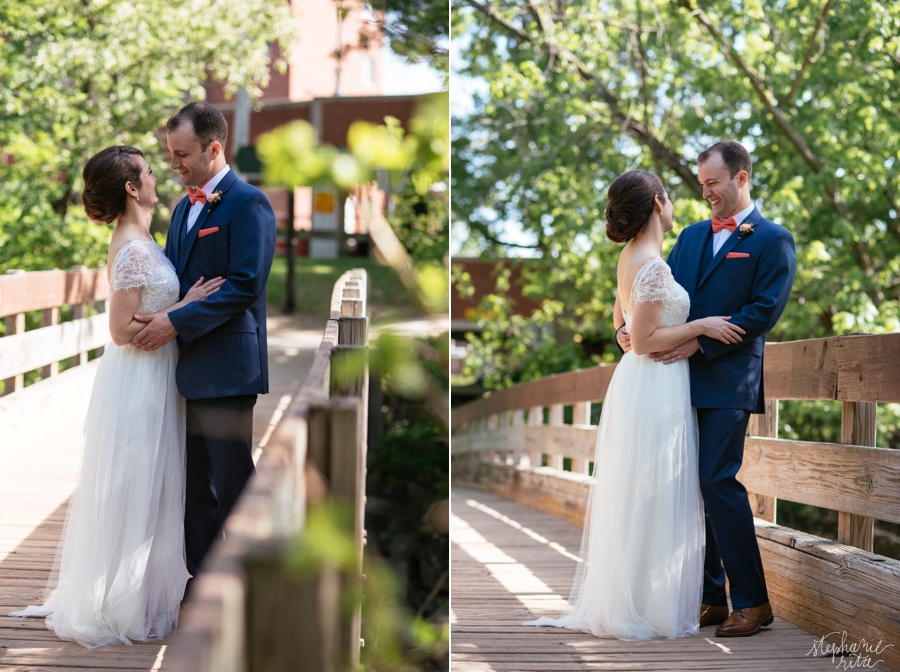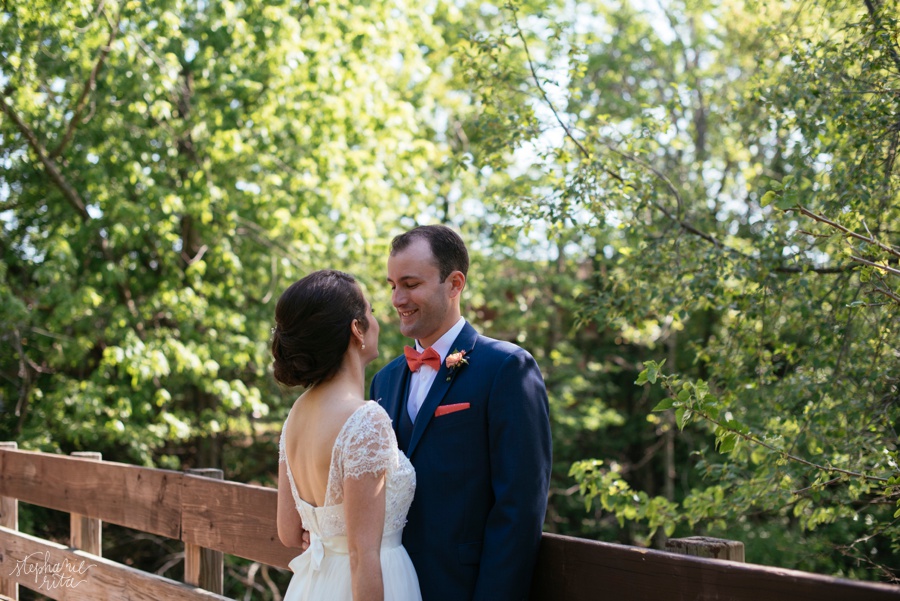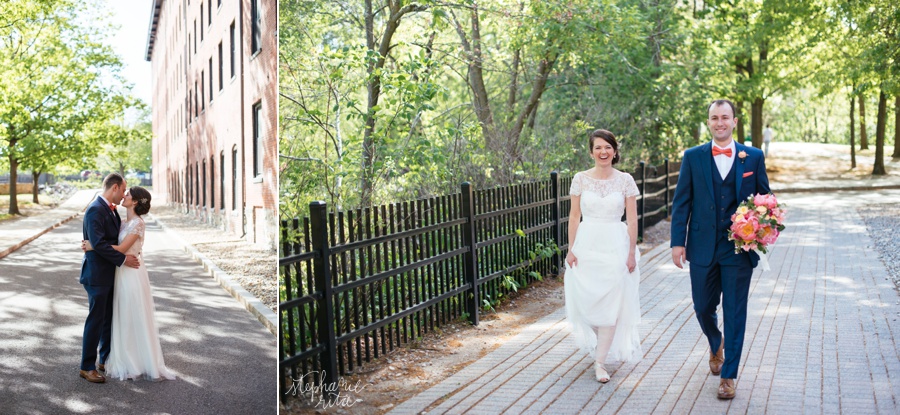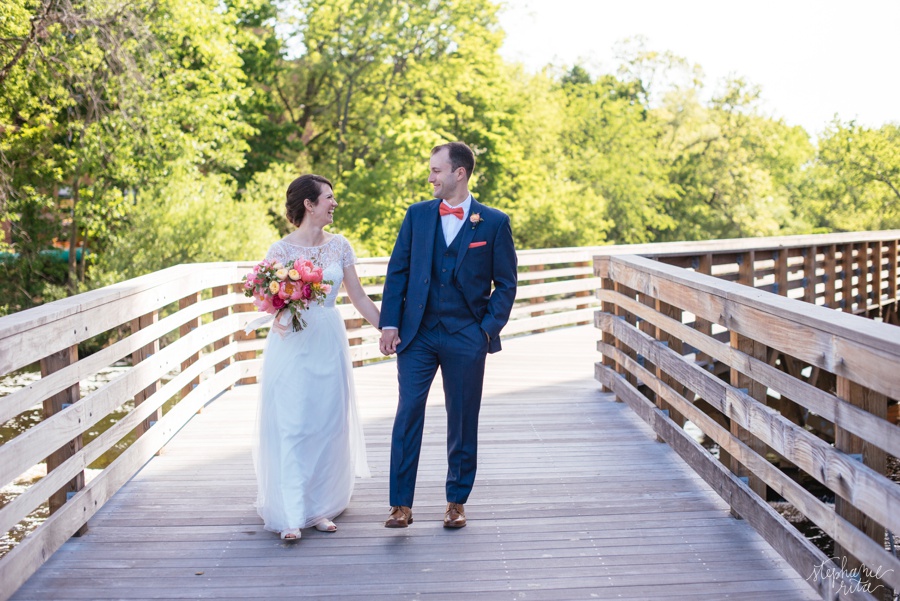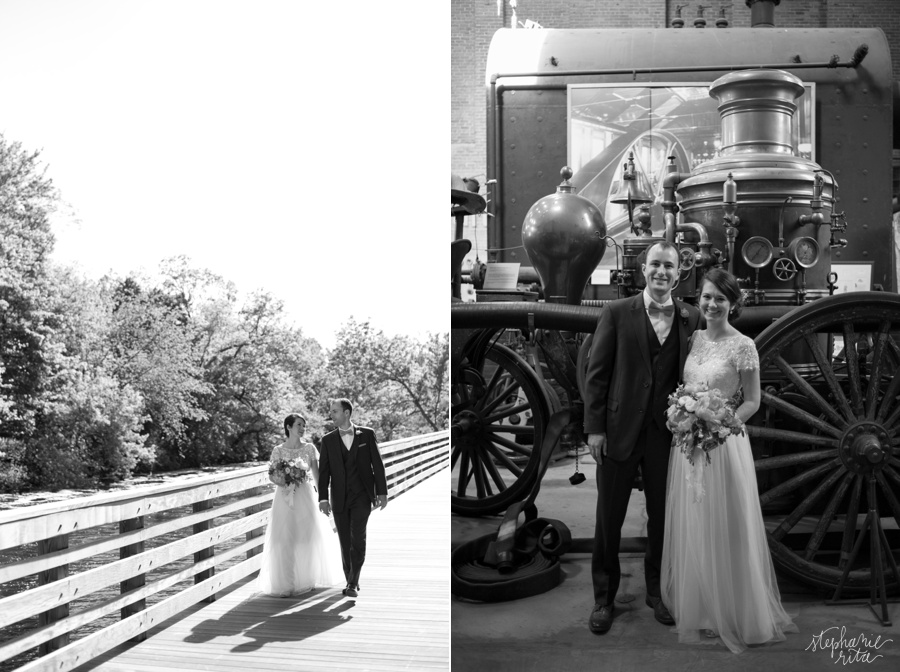 The inside of the CRMII was pretty great, too, and we found some more fun photo ops! Cocktail hour was in the main part of the museum, surrounded by old fire engines, cars, clocks and a ton of other interesting pieces of history.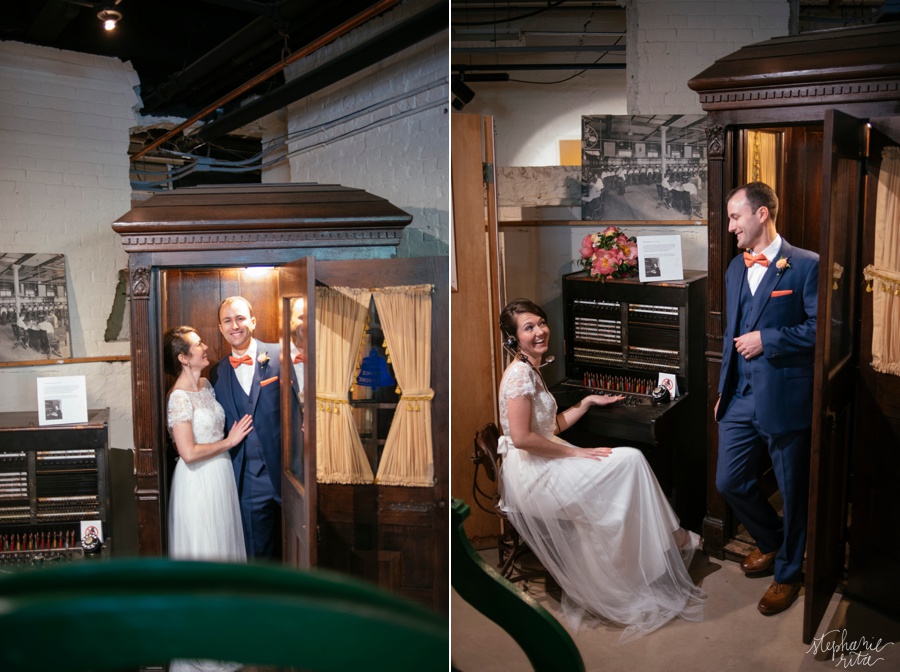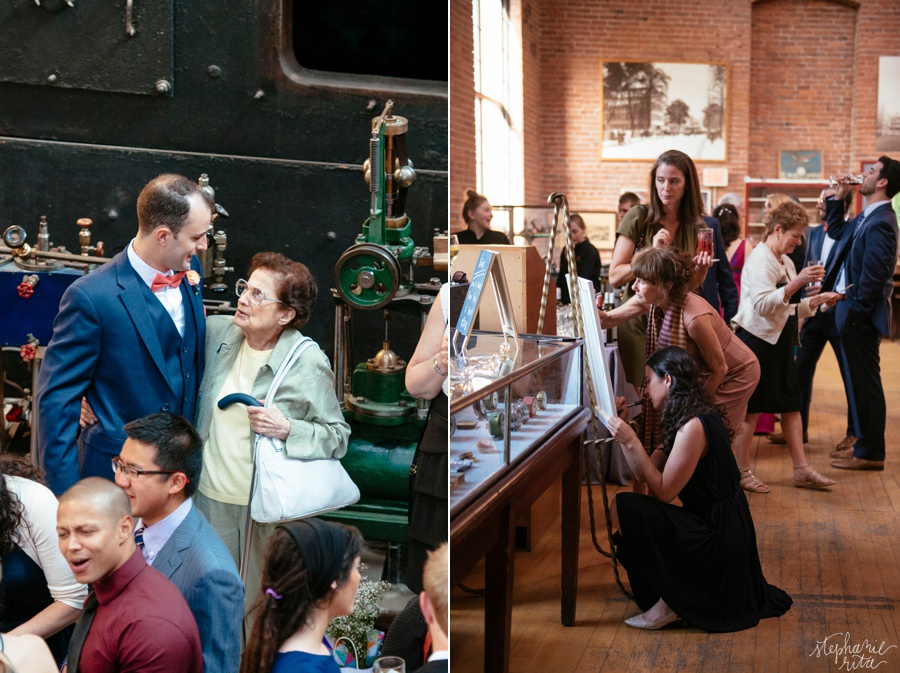 I loved the industrial vibe the whole space had, which K+J translated into their decor, with antique glass bottles holding their flowers, and lightbulbs as table numbers! Yes, I stole the lightbulb idea for the ring shots 😉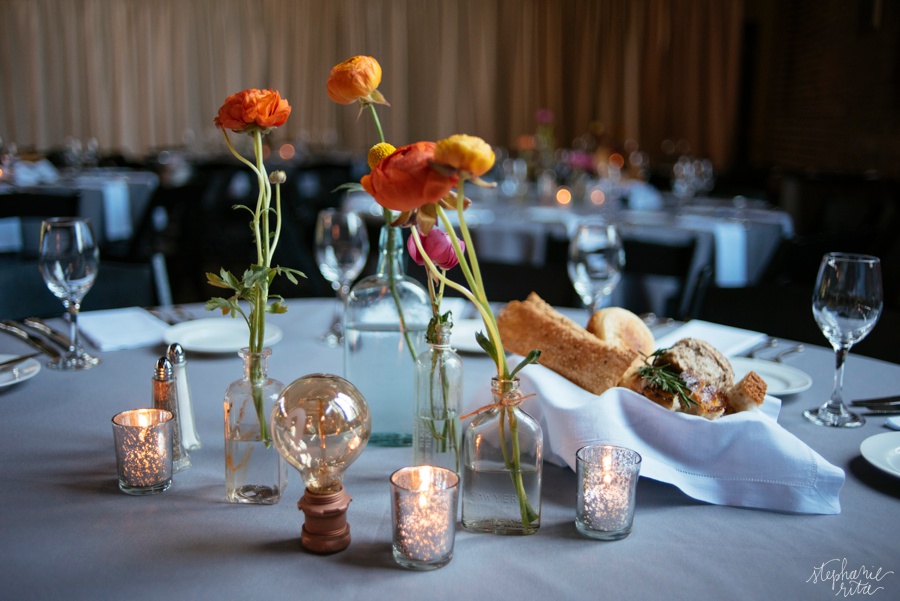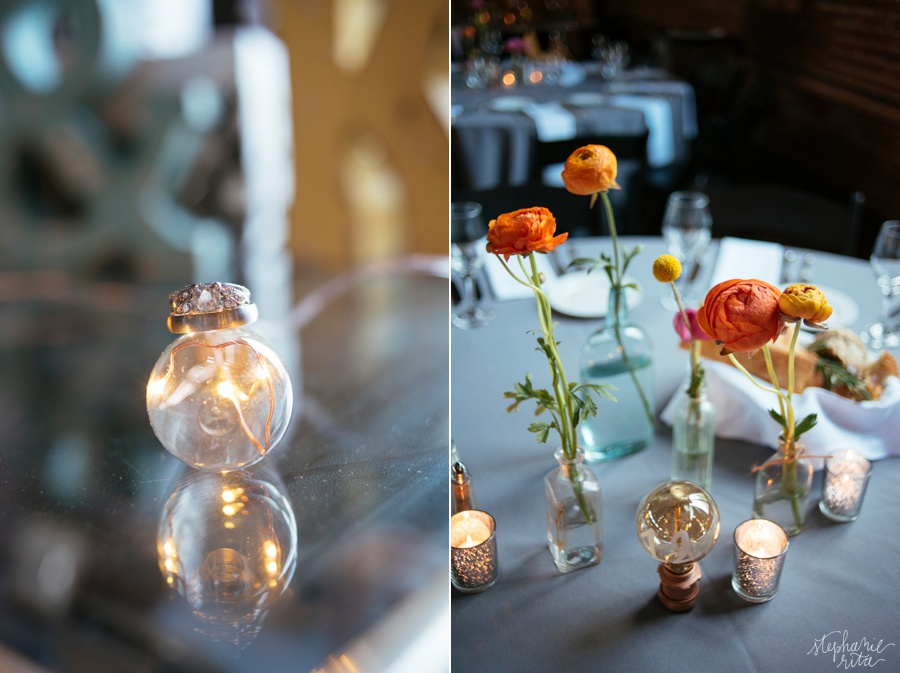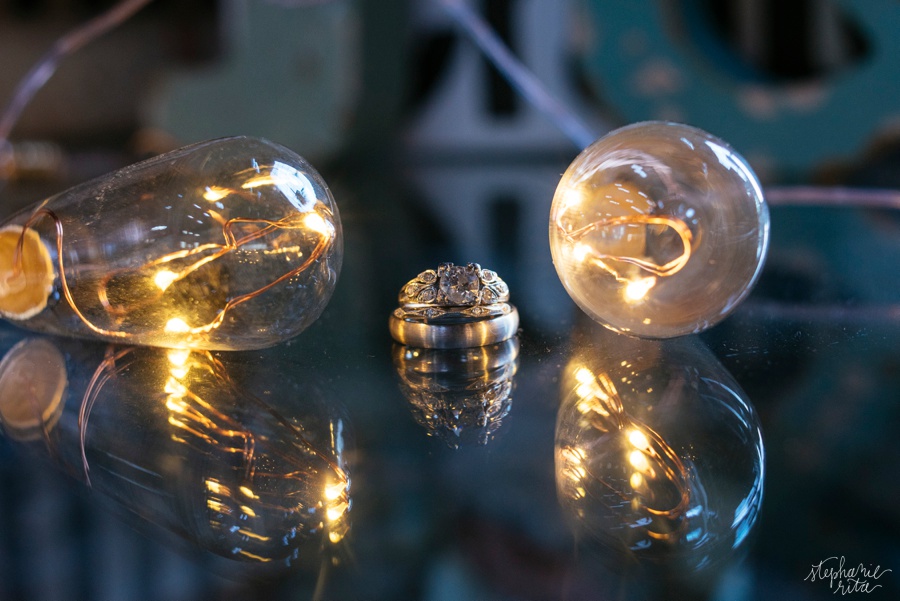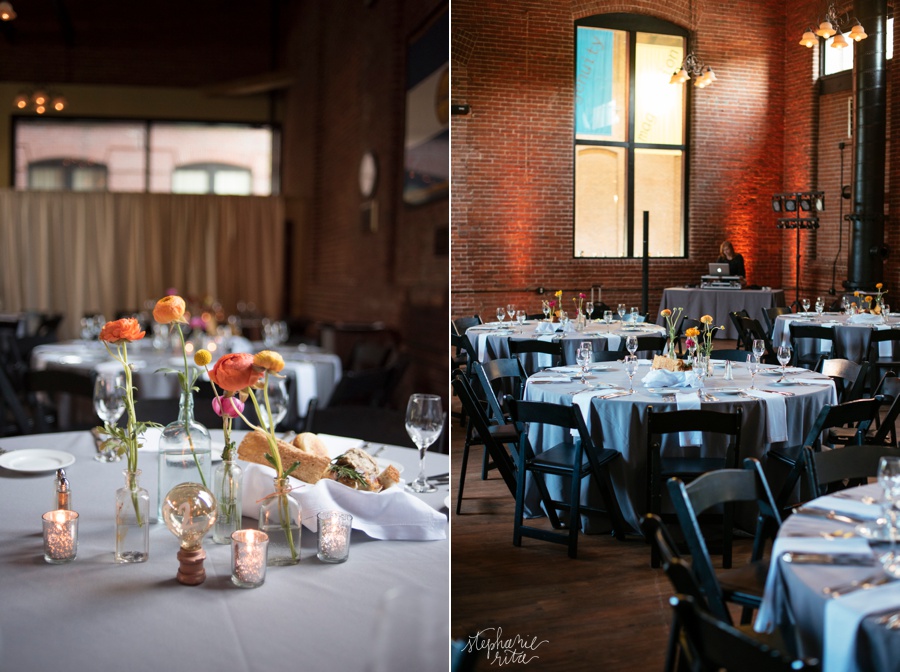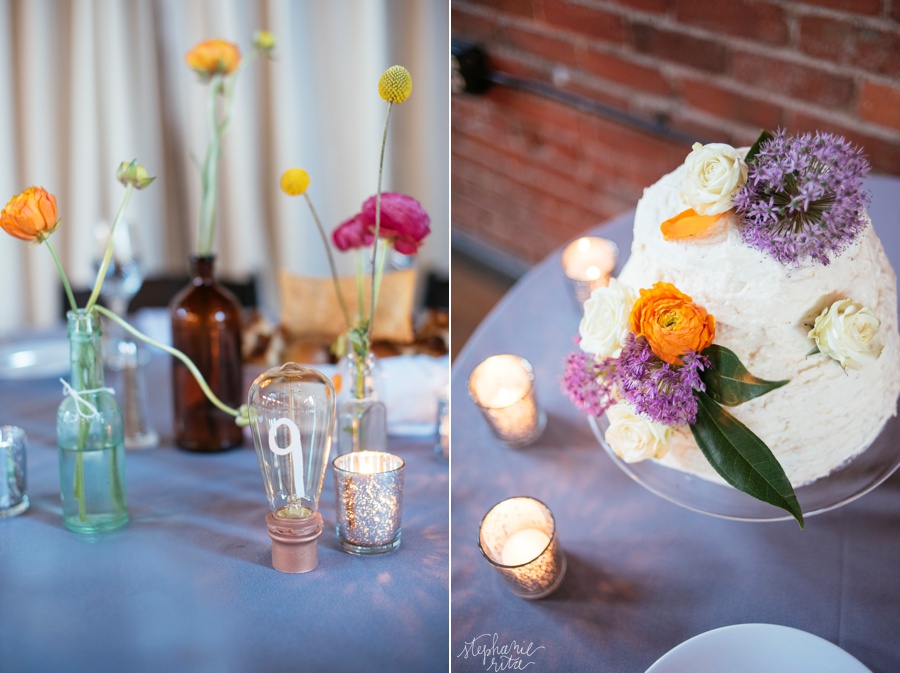 First dances are adorable to begin with, but K+J took it up a notch by singing throughout theirs! So cute.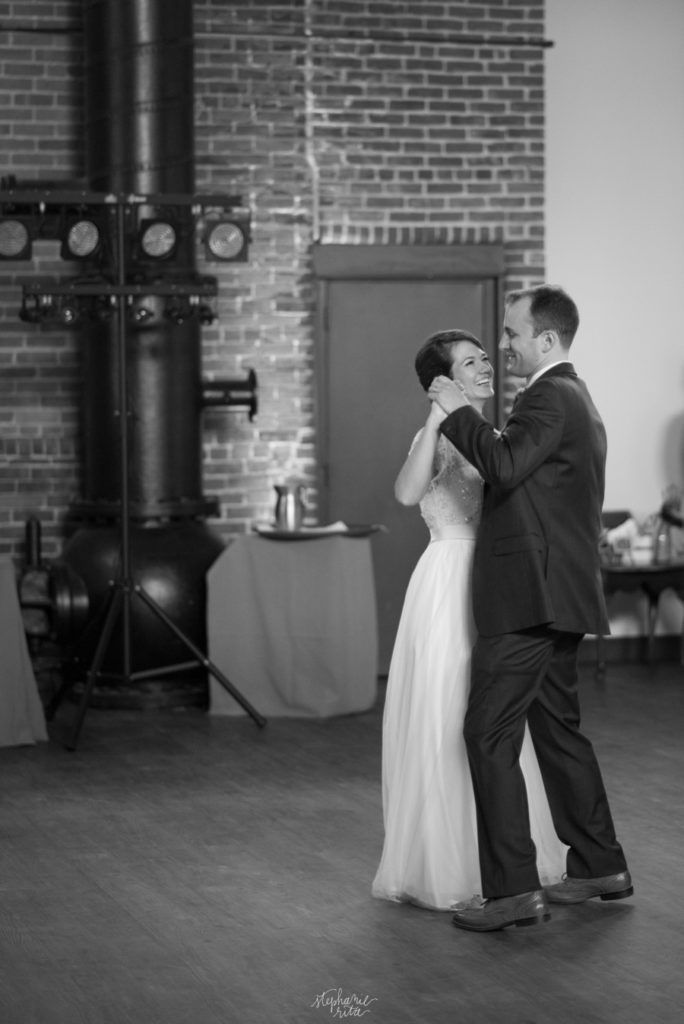 K+J have hearts of gold and their friends and family were sure to let them know how appreciated they are. Lots of emotions during these speeches!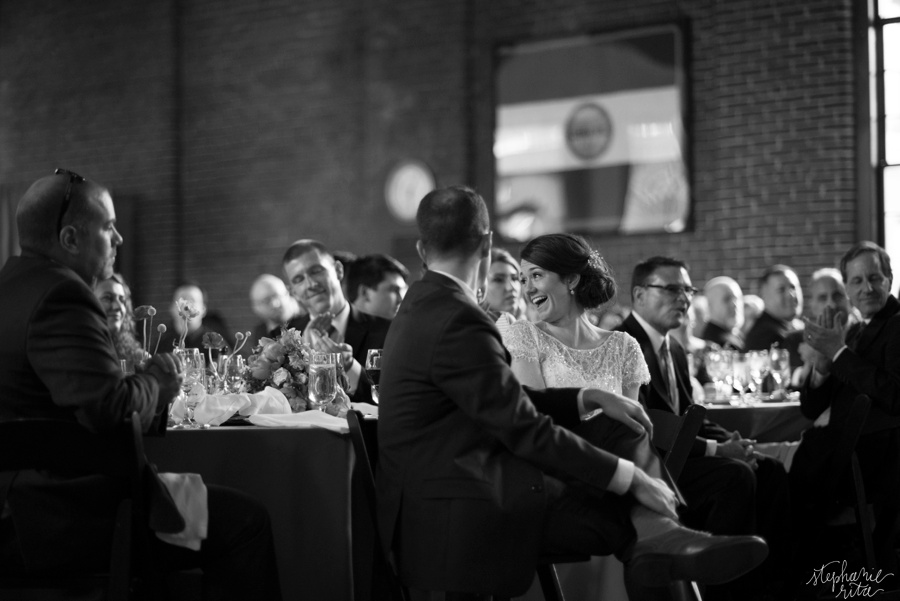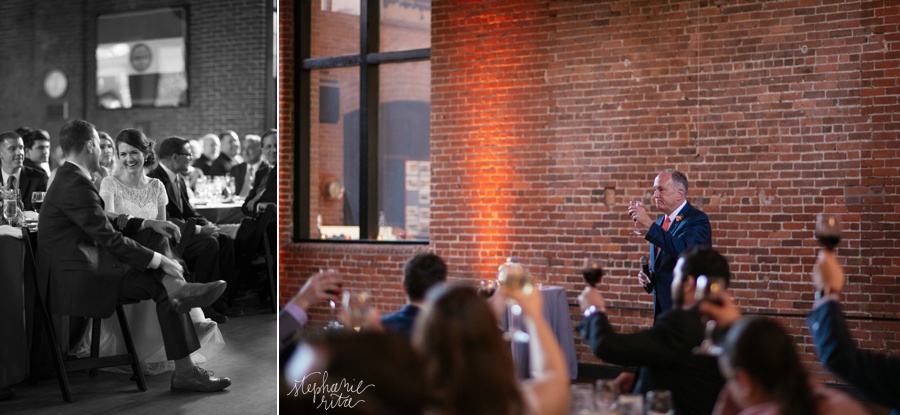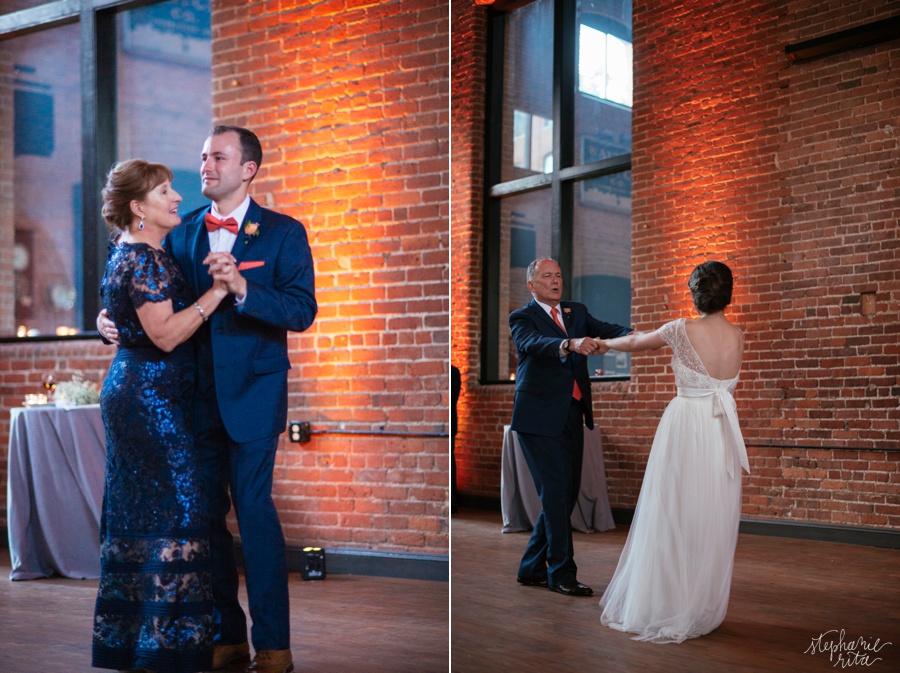 Kathleen and her younger brother did a special dance that had the entire room clapping and laughing along. Such a fun memory!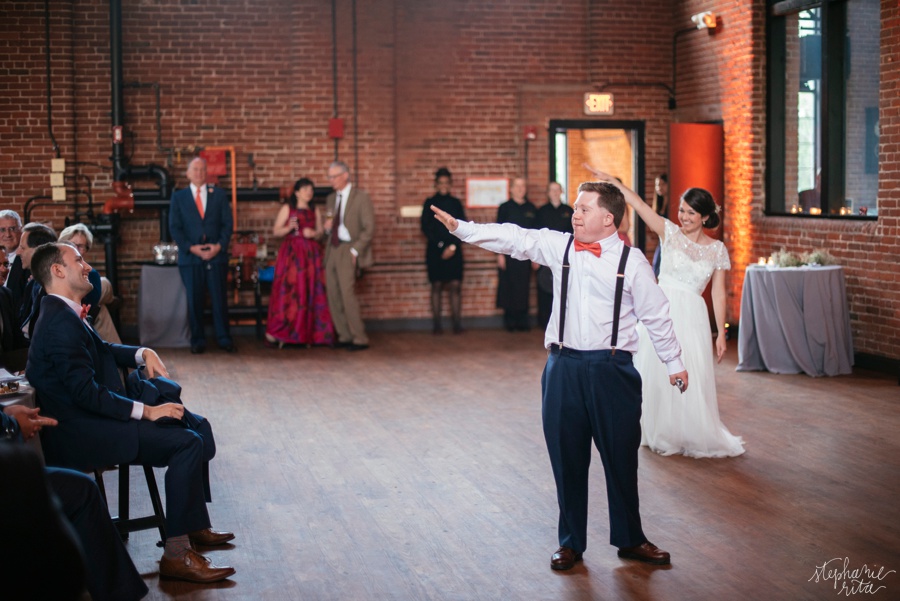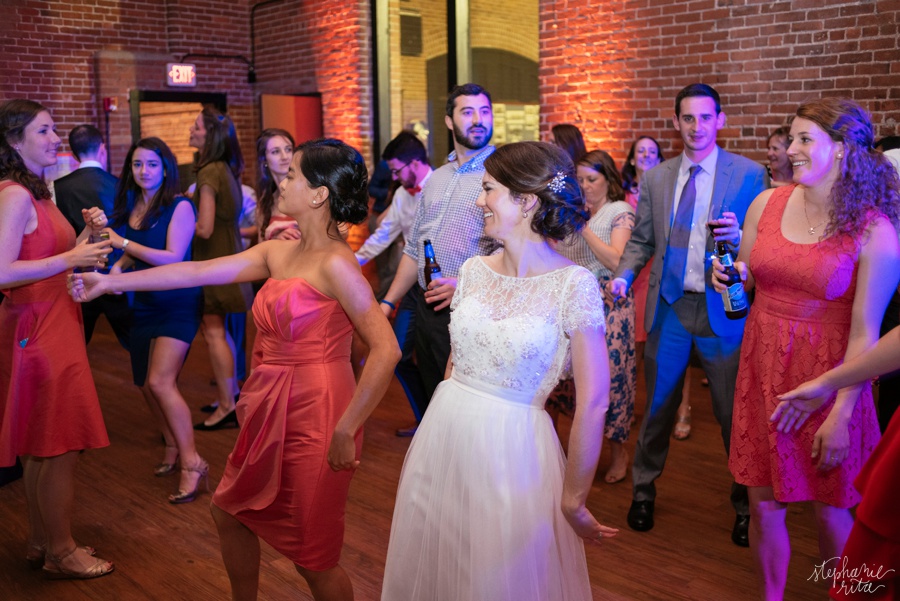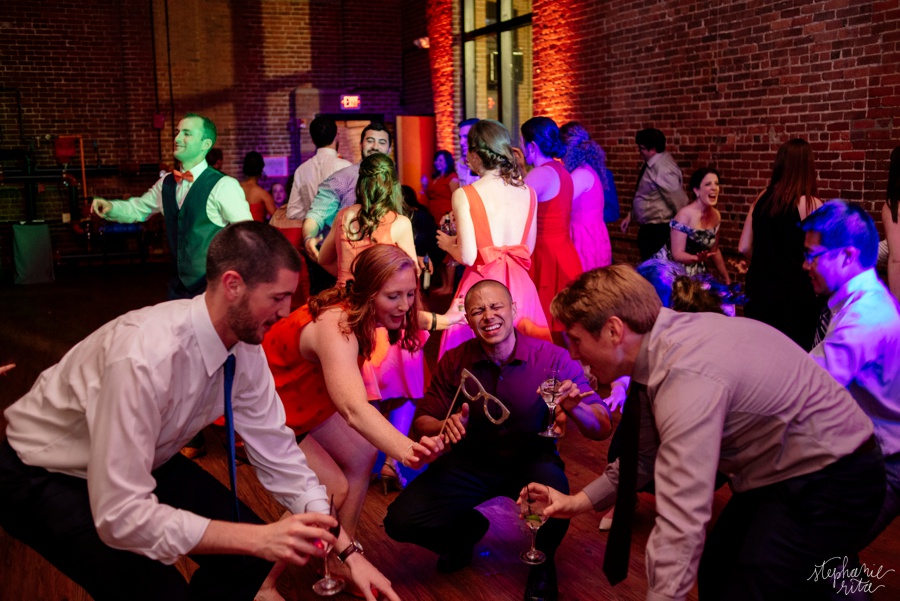 It was so good to see Rachael & Tim, one of my 2014 couples! And to meet their new little cutiebabe, Paul! <3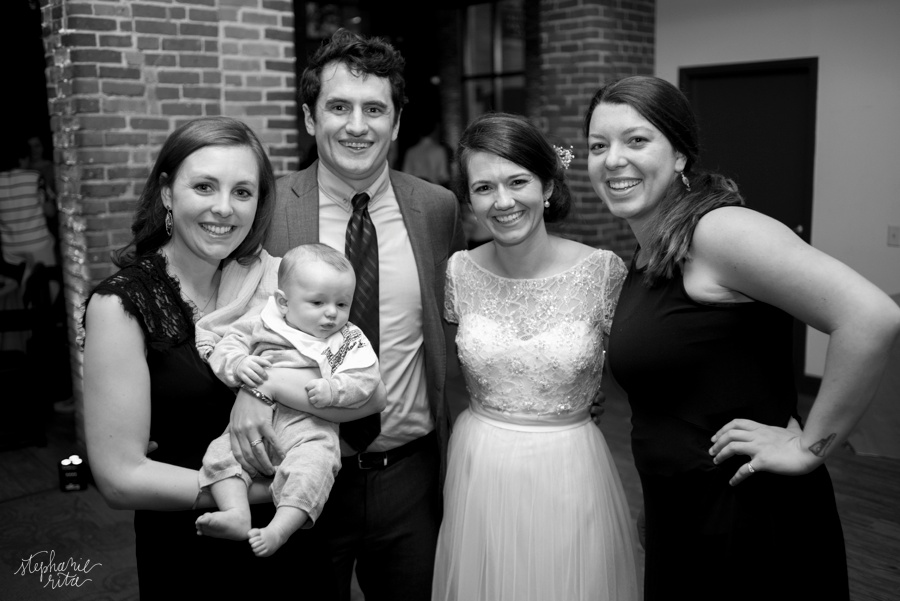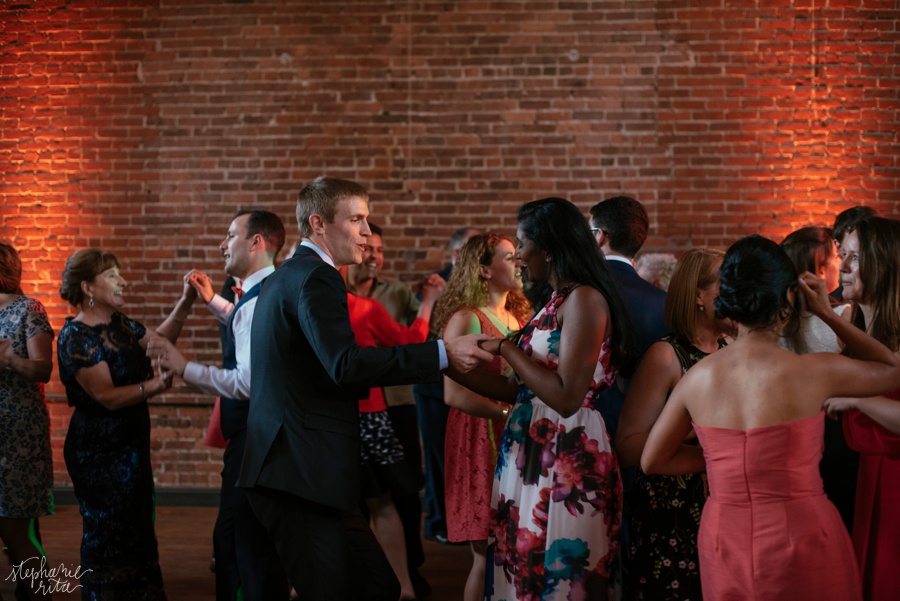 Boston College was represented in a BIG way, so we ended the night with a big group photo with all the BC friends 🙂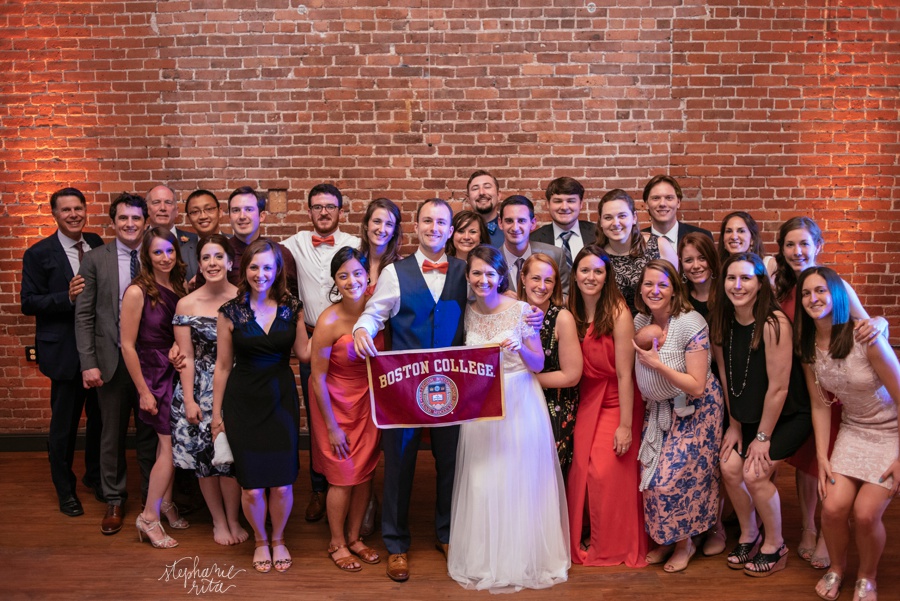 K+J – Thank you for trusting me with your photos. It's been the best getting to know you over the last year. You planned such a good, memorable, fun wedding day & I hope these photos bring you right back! I hope you had an amazing time in Portugal!
~*~
Thanks to this awesome vendor team for making this day so lovely!
Venue: Charles River Museum of Industry and Innovation
Hair & Makeup: Tiffany at B Lovely Beauty
Flowers: Grace Kim Flowers
Catering: Off the Vine
DJ: Sara Williams
Bridal: BHLDN