This week I bring you a total hodge-podge of things. Kinda of like my brainz… But it's cool and they may or may not inspire you (Hopefully that's a yes). So take a look at some of the inspirations I caught floating around the interwebs!
~*~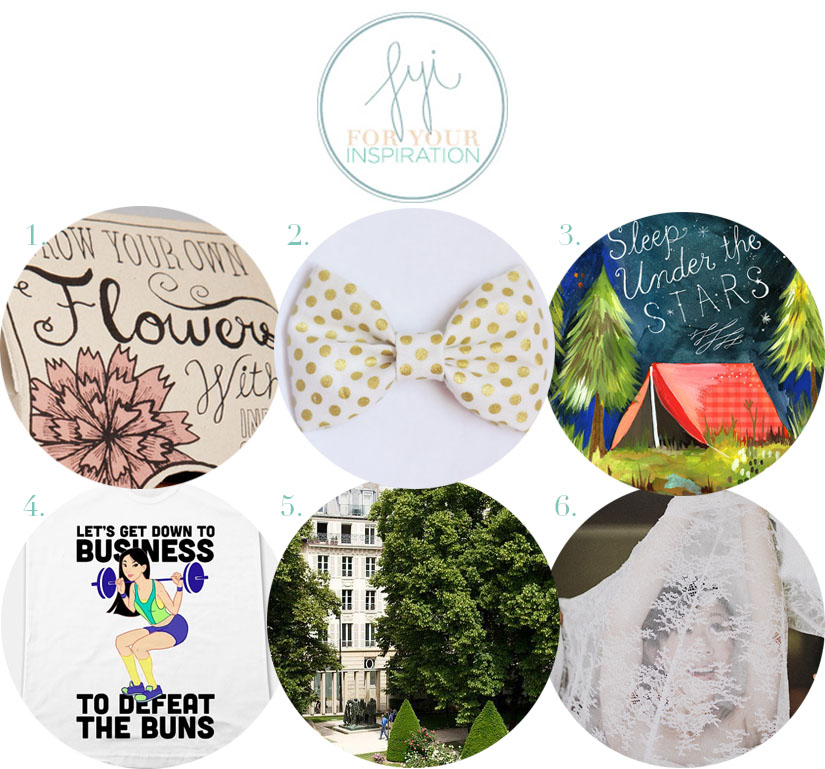 1. "Grow your own flowers" with the prettiest packaging ever! I might not even grow the flowers. I might just display the package on my shelf.
2. ATTENTION MOTHERS. If you have a family session with me in the next few months, and your baby girl needs a cute polka-dotted headband to wear… No fear! I found one!
3. Art with camping and hand-lettering, what could be better?
4. Let's be honest. You'd workout more if you owned this Mulan shirt. Yeah, so would I. Promise.
5. I know Nate and I just took a big trip to Scotland this spring, but once you have the travel bug, you HAVE the travel bug. Anyone been to Paris? If I ever get the chance, the garden at Musee Rodin will be on my go-see list! So lovely!
6. Sean Flanigan nailed this veil shot. NAILED IT. So inspiring. And gorgeous.
Wait, can we talk about how this is the last Friday of September. SEPTEMBER, don't leave! 🙁 Best month ever. Although… October has some potential this year… But more on that Wednesday! 🙂
Happy Friday!
~Stephanie