Hey friends! Sorry for the radio silence last week. Nate and I were off exploring the pretty parts of San Fran and Napa Valley. We mixed in visits with Nate's extended family and a few of our favorite friends from Syracuse. It was a very weird time to plan a vacation, seeing as it's prime time for leaf-gorgeousness here in New England (and therefor very busy in the family session department). BUT as soon as I accepted the fact that I would not be working for two weekends in a row, I was actually really glad to get away for a while. But enough about me and onto the pictures!
We stayed at Nate's aunt and uncle's house in Bodega Bay the first few nights, which happens to be right near the water! Thank you, Jesus, for oceans. The first morning I went running and it was so foggy that I could barely see two steps in front of me! I was just minding my own business when all of a sudden BAM! I rounded the corner and saw a faint view of the ocean, so obviously I had to find my way down to the beach. Ten minutes later this is what awaited me. Heart stopped.
And then I found a cave.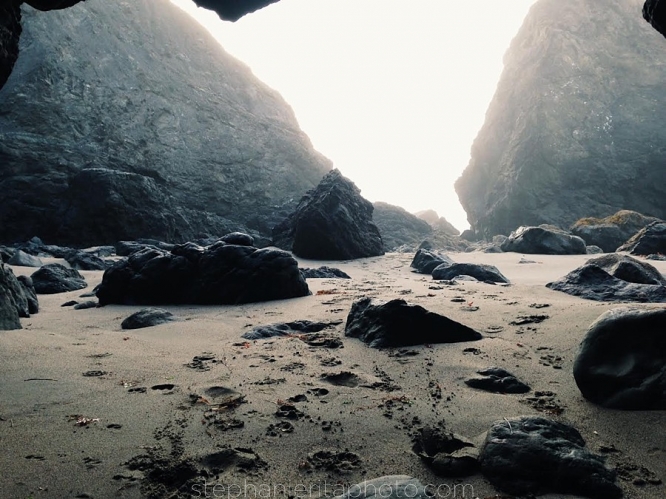 Our weekend in Bodega Bay was mostly filled with ocean walks and relaxing, with a few winery tastings mixed in. We stopped at the German
Gundlach Bundshu
, the Italian
Beuna Vista
, and the Sonoman (not a word?) 
Ravenswood
. I think the first place was my favorite, mostly because the tasting room was in a rock cave. So.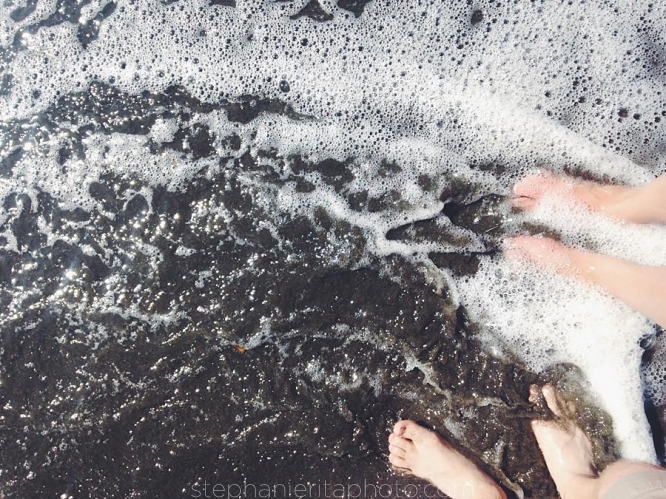 On our way down to San Fran, we stopped at
Muir Woods
, which is a huge, amazing, magical forest with Redwood trees! We hiked for about 2 hours and even saw a deer!

This little side adventure is one of my favorite memories from our week.
Let me be honest with you. We planned this vacation in two days, not to mention less than a week before we left. I wish I was kidding. Luckily we were still able to find some prettttyyy impressive B&B's to stay at! Once we got to downtown San Fran, we spent two nights at
The Inn San Francisco
, which was the cutest B&B maybe I've ever seen. So well kept and such friendly staff. Not in the niiiiiiiicest area of town, but it was definitely the nicest house on the block, with a ton of ethnic restaurants just a few blocks over. We had authentic seafood paella at
Esperpento
!
Our B&B also had a rooftop deck! This was the view looking over to the heart of San Fran. Looked really cool at night, too!
If you were wondering if we rode a cable car, DUH. Isn't that a SF requirement? Those hills are seriously insane.
We walked a LOT of hills that day! Mostly because we were lost. But half because it was fun.

We also visited the pier, Lombard Street (the crazy zigzag one), the botanical garden in Golden Gate Park, and
Fog Harbor
for lunch (where we met not one, but TWO Syracuse alum, thanks to Nate's 'Cuse shirt he was wearing.)
I should also mention that
Tartine Bakery
is worth a visit.
Before we trekked off to Napa, we stopped in Sausalito! Maybe my favorite little town? Nate said it reminded him of Italy. Things of note:
Galerie Elektra
 (best art collection ever),
Lappert's Ice Cream
(best coconut macadamia ice cream ever), and the views.
Then it was time to be on Napa time! Our B&B, the
Old World Inn
, was so fancy! Gorgeous old house, close to down town Napa, amazing breakfasts and yummy desserts every night

Embarrassingly enough, the only photo I took of it was the bathroom. I hope you can see why. (If you can't, it's because it's GORGEOUS. You're welcome for the help.) Favorite random memory: stumbling upon a live 6-man band in a little alley and stopping to listen for a while.
Selfies at Andretti Winery.
We splurged on the full taste/tour at
Castello di Amorosa
. It's a CASTLE. A real (well, never reeeaaal, but authentically made with materials sourced from Italy) CASTLE. The tour was all about the process of how they make wine and we even tasted some straight from a barrel. Also, our tour guide happened to be (the only) Italian (working there), so between the castle and his accent, I don't have to visit Italy, right? Jk jk, it's on the top of my list.
Lunch time at
Gott's
! We highly recommend this place, seeing as both our afternoons in Napa were spent gobbling up their burgers and fish tacos.
We hung out in the
Oxbow Market
area of Napa for a few hours. Besides the very cool, well-designed, mostly organic/trendy open market, we also stumbled upon
Poor House
and
Model Bakery
. If I lived there, I'd be at all these places a whole heckuva lot.
The last part of our trip included ALL THESE SPECIAL PEOPLE! The West-Coast-'Cuse-Crew. It was so great to be able to spend a whole weekend with them (for the first time in 2 years!). They introduced us to the Marin Headlands, which is like the best view of SF ever. Then we drove to a beach. Then we went to Sausalito again! Then we watch the sun set over the ocean! Then we played games until midnight, which is the latest I've stayed up in a long time! Church, Taco Sunday, Farmer's Market, more ocean views, cute coffee shops, more games, more memories… too good. Miss ya'll already. <3
Sooooooo that was our San Fran / Napa trip!
If you're not into personal posts, I'll be back early next week with a ton of new family sessions for you to look at.

Stephanie